Do you have problems progressing in Peaks of Times? I have here all realms with a detailed walkthrough that should help you clear all the different stages and get the mighty rewards.
Please mind – in Peaks of Time there are some realms that have a puzzle that you need to solve while others are more straightforward, so I try to be as general as possible and as specific as needed 🙂
General Tips For Peaks of Time
Here you will find some general tips that will help you to progress in Peaks of Time – in the end of this guide you will find links to very detailed walkthroughs for every single realm but I really recommend you to read the general tips as well 🙂
Hero Selection
Selecting the heroes you will use in the next fight in Peaks of Time is really important and there are always two things you need to mind:
Prevent losing a hero! Don't use a hero that has low HP or you will risk to lose him. The only time you should use a hero is when you have relics that will heal up fast and at the beginning of a fight
Faction bonuses. Don't use a hero that will be weak against the faction the enemy team uses. So, oftentimes you will see all enemy heroes being of one faction, like maulers, so you would prevent using nature faction heroes because the enemies will have 25% more damage on them
In general plan your team to be more durable because all damage taken in a fight will carry over to the next figth and you can't risk to lose a hero. If you have troubles with your team, please refer to my frequently updated guide on the best teams in AFK Arena here or the tier list of the best heroes (including their best build). Also, don't miss out on the recently new gift codes that I posted here.
MOST IMPORTANT!

Cancel Fights!

Most players don't know that, but if you cancel a fight in Peaks of Time, the result will be cancled.

The damage and killed heroes will carry over but if you cancel a fight you can start it again and all damage taken in this fight and all heroes killed in this fight will be reset!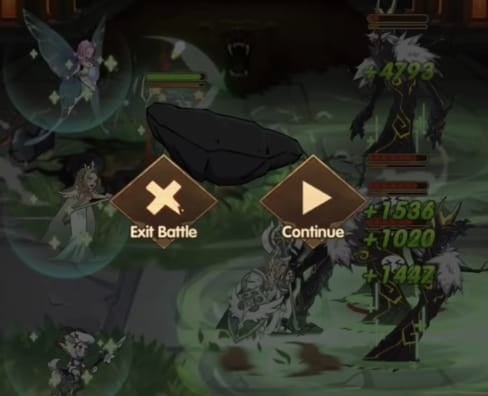 Use this if you see that one hero got a lot of damage or if a hero died and re-run the same fight again. Especially when using auto fighting the outcome is sometimes really different depending on how the dodges, evades or crits proc!
Don't Use Auto Mode
In AFK Arena auto fight is something you will get used to really early – and for normal campaign map fights this is totally fine – in Peaks of Time, however, you don't really want to use it, especially if you do close fights.
The reason is simple.
Not only the HP lost and killed heroes will stay after ending a fight, also the energy bar will.
If you use auto fight, your heroes' skills and ultimates will be automatically activated as soon as they charged. So, if you now run a fight that you win for sure you rather want to have all your heroes energy charged up for the next fight and you can use the ultimates right away and don't have to wait until they charge again.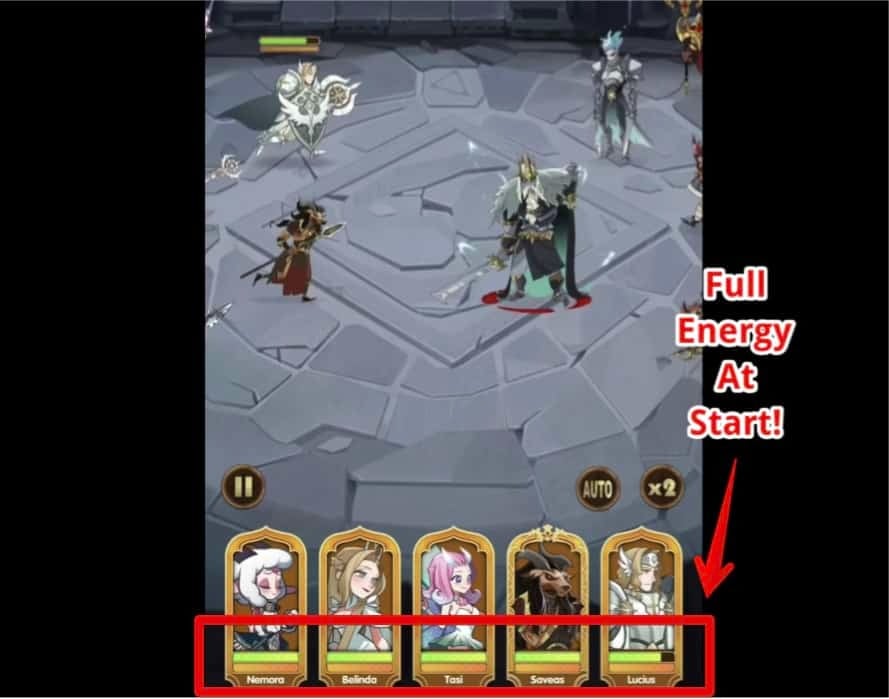 Sounds like a lot of work but will give you a lot better results in Peaks of Time, I can promise you that.
Planning Heals
Try to swap through your available heroes as long as you can before using a healing fountain. You want to get the most out of it and using it with 6-8 heroes at around 50% HP left is a lot more useful than using it when you have 2 heroes at 30% HP.
You can always come back to a healing fountain later so don't rush using them, they are your life insurance in Peak of Time and you want to only use them if you really need to.
Use the Right Relics
After each fight you can choose between three relics that will be active until the current session ends and they will give your team a huge boost in Peaks of Time, especially in the later stage when you have like 10+ of them.
Always choose those that keep your heroes alive over any other relic – healing, life leech and shields are the most important ones. After that you can use those that prevent damage like turning enemy heroes against their team, higher dodge chances or additional defense relics.
If none of the above are available, you can use the ones that add crit rating or crit damage for additional boost.
Also try to always favor those relics that apply to all heroes instead of individual relics or faction bonus – in many realms in Peaks of Time you will see many mercenary camps with additional heroes that you use and you want to have the benefits from the relics active in all of them 🙂
All Realms Walkthrough in Peaks of Time
I have written here some really detailed walkthroughs for all the realms in Peaks of Time – you can find them here:
Realm 1 – Ranhorn's Strife – Click here
Realm 2 – The Unrelenting Blaze – Click here
Realm 3 – Secrets of the Forest – Click here
Realm 4 – Rest in Peace – Click here
Realm 5 – Ancient Ruins – Click here
Realm 6 – The Far Frontier – Click here
Realm 7 – The Divine Realm – Click here
Realm 8 – Rancid Forest – Click here
Realm 9 – Viper's Marsh – Click here
Realm 10 – The Dismal Descent – Click here
Realm 11 – The Savage Wastes – Click here
Realm 12 – The Solar Plane – Click here
Realm 13 – The Burning Woods – Click here
Realm 14 – The Abysmal Delves – Click here
Realm 15 – The Contorted Realm – Click here
Realm 16 – The Forgotten Mine – coming soon