Are you looking for a deck that you can play with Killmonger in it in Marvel Snap? Killmonger can open up some interesting possibilities so I feel you will like this guide here – please mind, this guide here is getting the good decks directly from my popular meta decks list and gets updated each time I update my meta decks (at last once or twice per week), so you will never find any outdated decks here that are not flagged as old and outdated.
Is Killmonger A Good Card in MARVEL SNAP?
Destroy all 1-cost cards on the board can be devestating for your opponent, espcially if they play Zoo Decks so you take away their baseline of power. But also works great in combination of destroy archetypes so you can the benefits from the amount of destroyed cards.
---
Killmonger in the current meta: Super versatile and you can see him in many different decks. Not just tied to destroy archetype decks and a great way to deal with many different decks (from Thanos, through Zoo or just dealing with cards like Ebony Maw, Sunspot, etc.).
---
Good Synergies with Killmonger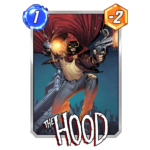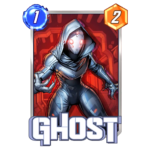 ---
The Best Killmonger Decks
The decks here are ranked by how well the decks perform in the current meta. As I said earlier in this guide, the table will get updated every time I update the meta deck tier list here automatically!
Zabu Sera Control

S

This new version with Zabu performs incredibly well as you will get a ton of cards to feed into Bishop for extra power and Carnage to scale up. Ultimately you will control your opponent through either Enchantress, Shang-Chi or Killmonger will be a great help to deal with any win condition your opponent might come up with and also with Rescue a good power card in your hand.

Future Prediction:

This deck seems to have a better time keeping at pace with the ShuriZero and ThanosLockjaw decks out there as you can use all the control effects well against them.

How to play this deckMore Zabu DecksMore Control Decks

Thanos Zoo

S

Several Thanos decks emerged since his release, but this Zoo deck seems to work best by reducing the costs qith Quinjet to basically get them to play for free. With Beast and Carnage you haev the ability to free up locations and Angela and Bishop grow stronger and stronger with each card played. At the end you either buff up Thanos incredibly and/or can use Blue Marvel or Valkyrie to buff up your cards power on the board.

Future Prediction:

Thanos os simply doing too well right now so this zoo deck will perform also really strong. Works clearly less effective than Thanos Lockjaw, though.

How to play this deckMore Thanos Decks

DeathWave

A

DeathWave is incredibly powerful as you enable your win conditions from both side. Destroy cards and gain synergy there will make your Wave cheaper as well as every unspent energy reduced She-Hulk's cost. With Wave you can then reduce their cost to 4 energy plus their reduction, so sometimes you can drop both of them for something like 2-3 energy n total to overtake locations on the last turn easily.

Future Prediction:

DeathWave seems to fall behind more and more this season for the fact that the strong archetype of decks simply seem to regulate syergies well or simply overcome DeathWave with pure power if you don't draw into your lines well. Still, a solid deck to play if you're experienced, just make sure to bale to escape the ThanosLockjaw and strong Shuri setups.

How to play this deckMore Destroy Decks

Electro Sandman Ramp

B+

I love this deck a lot as you can play it two ways, either by using Psylocke to reduce your cards cost and then use Wave as well to get a grat final push where you can drop two 6-cost cards or you use Electro to be able to play 5-cost and 6-cost cards on earlier. You can use Leech on Turn 4 to already block your opponents abilities and with your 6-cost cards you always be able to find a win condition on the last turn.

Future Prediction:

A very control-heavy deck that now uses Nimrod through Arnim Zola as well to gain a lot of potential reach and flexibility towards the end + the fact that you don't need many Series 4 and Series 5 cards makes it a solid pick for F2P and new players.

How to play this deck

Silver Surfer

B

This is one of the classic Silver Surfer decks taht uses a lot of 3-cost cards to flood the board and then scale them up through Silver Surfer at the last turn.

Future Prediction:

Surprising comeback of this traditional Silver Surfer decks as many 3-costs cards are very strong right now so this is a fused Good-Cards archetype deck with strong 3-costs cards and then Silver Surfer as the cherry on top that holds everything together.

Deathpool Venom Destroy

B

Using many destroy synergies, this deck can devlop a lot of power and also handle quite some controlling locations and cards your opponent might throw your way. Overall also a ton of fun to play when you scale up your cards well.

Future Prediction:

This deck is back into viable meta decks a little bit by surprise but the fact that you can use Bast to scale up your low-power cards before starting to use their destroy synergies can develop crazy power accross the board.

How to play this deck

Basic Control

The classical control deck, using cards to interrupt and limit the way your opponent can play his synergies turn by turn with cards that lock down locations, limit the cards your opponent plays or manipulate the energy costs or power of them

Future Prediction:

Still annoying to deal with and less about a certain deck type. If you're good at playing a control deck, this deck can still get you very far but compared to other decks above harder to play and doesn't work every single time.

How to play this deckMore Control Dekcs

Budget Ongoing

Play as many cards as you can early and then buff them up with the higher-cost cards to gain more power, espcially with Onslaught who doubles that buff you can get a nice result at the end of Turn 6

Future Prediction:

This deck can make a solid appearance. It lacks some high power to compete with the high-ranked decks in Marvel Snap above, but still solid

How to play this deckMore Ongoing Decks

Handsize Destroy

This is bascially a deck that won't play much on synergy but more on using cards that have great value on their own. Great for beginner players that haven't have many cards unlocked and still working well to compete with other decks and reach a solid rank.

Future Prediction:

Depends a little on the cards performance but I update with every season/balancing change.

How to play this deckMore Destroy Decks

Sandman Kazoo

The idea here is to flood the board early and by the time your opponent can play the more powerful cards, you limit down with Sandman and buff up your cards zoo-style

Future Prediction:

Still viable and useful and espcially for newer players absolutely a deck to check out, although falling out of the meta slowly but steady.

How to play this deckMore Ongoing Decks

Magik Disrupt

With Viper, Green Goblin and Titania you'll try to flip over Titania as long as you can fill your opponents side to make the swing in the last turn to get that location (see below in the Titania section how to do it) and with Sunspot, She-Hulk and Infinaut you try to build high power on another location to win. This deck is pretty straightforward to play with good capabilities to counter and annoy your opponent into retreating.

Future Prediction:

A strong disrupt deck that seems to be able to deal with the high-power decks we see right now as well as Thones decks in all variations.

How to play this deck

Toxic Sera Control

This deck doesn't try to build up much power yourself, it relies on blocking your opponent to synergize through their decks to build much power (Enchantress, Shang-Chi and Killmonger helps a lot) and then using negative effects on their cards to decrease their power.

Future Prediction:

Seems to work with popular decks right now, espcially with Thanos zoo decks as the Infinity Stones are great targets for Hazmat and blocking with Luke Cage gives you a good edge here.

How to play this deck

Thanos LockGoing

This Thanos Lockjaw deck version works also really well and has a lot of ongoing cards to get some additional power to push at the end.

Future Prediction:

Thanos decks do so well right now and this is also a version that sticks out in the meta.

How to play this deck

Zerocula

This deck has two sides that you normally don't see together, the Zoo aspect with many cards that get buffed up but also the high-power push cards towards the end, giving your opponent a hard time to deal with in Marvel Snap. With Zero you can also play your Red Skull without buffing up your enemy or your Infinaut despite played a card on Turn 5. Dracula can become a little bit of a gamble but if you see you have your high-power cards in your hand at Turn 4 it's worth gicing it a shot.

Future Prediction:

Seems to be more viable again recently with the high-power cards that have abilities.

How to play this deck

2-Lane Destroyer

A different Pool 3 version of a very good destruct deck is this one here, using Destroyer as the final card. This deck is really interesting as you also use cards to block destroy effects like Armor or Cosmo to make that strong final-turn move. What I like about this deck specifically is that it's not that obvious early on that you're playing a destroy deck so your opponent will get a weaker read on your next moves. In my opinion also a really strong deck that's absolutely worth giving a shot.

Future Prediction:

Has been getting better, espcially as you see Armor and Cosmo being played by other players, too and this will rather help you than disrupt you

How to play this deck

DazzlerThanos

Amazing zoo deck and Thanos keeps it all together with the stones that you will, ideally play for free through Quinjet to trigger your Mojo or Dazzler for the extra power boost. With Super-Skrull you can steal your opponent's win condition and with Armor and Cosmo great ways to interrupt your opponent or protect your ongoing cards from Enchantress.

Future Prediction:

Performing pretty wild right now although you mandatorily need Thanos to make this deck work. You will not play all Infinity Stones but sometimes it happens so don#t go for that primary and rather flood the board to activate Dazzler and Mojo.

How to play this deck

P2 Destroy

This is a progressive evolution of the Pool 1 Destruct deck (see below) using some cool new cards that you can unlock in Pool 2. The general destruct cards stay the same, but you can play Killmonger to gain benefits but also counter other decks (like Zoo decks or other destruct decks). With Shang.Chi you can disarm locations easily that use high-power cards or power up early and Hobgoblin can ruin a location for your opponent out of nowhere effectively.

Future Prediction:

Not outstanding but performing alright given the fact that you use very early cards only in this deck.

How to play this deck

She-Hulk Baero

A great destruct deck where you can gain value directly of your cheap cards (Hood, Bucky Barnes) or feed them cheap into Carnage while reducing the cost of your Death card. With Wave on Turn 5 you can even get Death to 0-cost on Turn 6. The good thing here is, even without drawing into that line, you have Leader to copy your opponent, Aero to move his final push away or She-Hulk to find your win condition.

Future Prediction:

I ranked it down a little as many control cards are out there to make it hard for destroy decks to be really popular right now.

How to play this deckMore Destroy Decks

She-Hulk Combo

A great combo deck that uses the synergy between She-Hulk, Sunspot and The Infinaut along fitting cards for a great deck that appears weak up until the big power drops on the last turn.

Future Prediction:

Solid performance and similar as it was last seasnon, She-Hulk is just a good card for combo so I think it's save to predict her to stick around in the meta for quite some time.

How to play this deck

Zabu Dinosaur

Combining good cards that work really well on their own in a handsize deck with Devil Dinosaur works surprisingly well and is a viable and affordable deck right now

Future Prediction:

We always have a deck of 'good cards' each season that make a great deck, this is this season's one.

How to play this deck

Nimrod Destroy

Revolve around using your negative Goblin cards to clogg up one location of your opponent to play Galactus in on Turn 6. Then play Nimrod in another location, ideally scaling him up through Shuri and use Wolverine as well on the right location or the lcoation left of Galactus to make sure he will jump into it.

Meta Dependency:

Can be quite predictable with the Goblins, Wolverine, Nimrod down, but with ARnim Zola, you still have a backdoor to play on Turn 6 if Galactus doesn't seem to do the trick.

How to play this deck
---
Conclusion
I hope you liked this overview of the best Killmonger decks in Marvel Snap today and find them helpful to run one of them this season – I'm sure they will be one of the strongest and you can push your rank quite well with it. If you have questions or annotations to the decks, please don't hesitate to write a comment below and I'll be more than happy to reply.