Are you looking for a deck that you can play with Nova in it in Marvel Snap? Nova can open up some interesting possibilities so I feel you will like this guide here – please mind, this guide here is getting the good decks directly from my popular meta decks list and gets updated each time I update my meta decks (at last once or twice per week), so you will never find any outdated decks here that are not flagged as old and outdated.
Is Nova A Good Card in MARVEL SNAP?
Nova has the same stats as most other 1-cost cards with 2 power but when destroyed, he will give +1 power to all your cards on the board and this can scale quite well. Basically a no-risk/high-reward card to play-.
---
Nova in the current meta: You'll see Nova getting played along several types of decks as Killmonger plays outside the meta, but normally rather a destroy archetype kind of card..
---
Good Synergies with Nova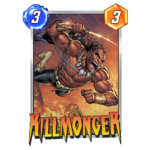 ---
The Best Nova Decks
The decks here are ranked by how well the decks perform in the current meta. As I said earlier in this guide, the table will get updated every time I update the meta deck tier list here automatically!
Sera Control

S+

This new version with Zabu performs incredibly well as you will get a ton of cards to feed into Bishop for extra power and Carnage to scale up. Ultimately you will control your opponent through either Enchantress, Shang-Chi or Killmonger will be a great help to deal with any win condition your opponent might come up with and also with Rescue a good power card in your hand.

Future Prediction:

With the OTA balancing nerfing Black Bolt and Stature, Sera Control is back on top of the meta again

How to play this deckMore Control Decks

Seracle Surfer

A

With loads of 3-cost cards you will flood the deck and either disrupt the enemy synergies with cards like Iceman, Scorpion, Cosmo, Killmonger or Polaris or build some yourself with Bishop, Brood, Mister Fantastic. You want to get as many 3-cost cards on the board as possible and then play Silver Surfer at the end to give each one of them +3 power. Playing Sera on Turn 5 will let you play 3 cards on your last turn so you can easily add 9-12 power to each location and turn over the game.

Future Prediction:

Not much changed for this deck recently and it goes a little up and down in the meta tier list of decks but no sigificant changes. Probably the deck that has been in the meta tier list the longest consequatively and still performs stabel and successful

How to play this deck

Deathpool Venom Destroy

B+

Using many destroy synergies, this deck can devlop a lot of power and also handle quite some controlling locations and cards your opponent might throw your way. Overall also a ton of fun to play when you scale up your cards well.

Future Prediction:

This deck made a comeback after not have been relevant for such a long time - fans of the classic destroy archetype did well with it. Hard to tell if that is just because of how High Evolutionary shook up things along the OTA balance patch on Black Bolt and Stature or this is back for good - but it works again which makes me personally really happy

How to play this deck

Handsize Destroy

This is bascially a deck that won't play much on synergy but more on using cards that have great value on their own. Great for beginner players that haven't have many cards unlocked and still working well to compete with other decks and reach a solid rank.

Future Prediction:

Depends a little on the cards performance but I update with every season/balancing change.

How to play this deckMore Destroy Decks

Toxic Sera Control

This deck doesn't try to build up much power yourself, it relies on blocking your opponent to synergize through their decks to build much power (Enchantress, Shang-Chi and Killmonger helps a lot) and then using negative effects on their cards to decrease their power and with Hit Monkey at the end you have still the option for a power push.

Future Prediction:

With some new cards and the strength of Sera, this deck is still and again quite high in the list (although not that commonly played by that many players compared to the other decks here).

How to play this deckMore Control Decks

Seracle Monkey

Using Sera to throw in many other cards for a big push with Hit Monkey towards the end

Future Prediction:

Starter Deck for playing the Hit Monkey Season, so no data so far how well this deck will perform in the meta.

How to play this deck

2-Lane Destroyer

A different Pool 3 version of a very good destruct deck is this one here, using Destroyer as the final card. This deck is really interesting as you also use cards to block destroy effects like Armor or Cosmo to make that strong final-turn move. What I like about this deck specifically is that it's not that obvious early on that you're playing a destroy deck so your opponent will get a weaker read on your next moves. In my opinion also a really strong deck that's absolutely worth giving a shot.

Future Prediction:

Has been getting better, espcially as you see Armor and Cosmo being played by other players, too and this will rather help you than disrupt you

How to play this deck

Basic Destroy

This is a version that's quite early available with Carnage and Deathlok as your destruct cards and several cheap cost cards to feed to. With Wolverine, Squirrel Girl and Nightcrawler you also have cards to play into locations that get locked and Enchantress is a great meta counter card. Your win condition with Iron Man and Hulk at the end is phenomenal!

Future Prediction:

Fun to play but with very basic cards and not the best synergies you will not get too far in ranks

How to play this deck

Ben Brode B-Head

Ben Brode is not only the creator of Marvel Snap, he also released this deck here as the ultimate disruption deck and it's a viable one that makes a lot of sense and can be effective if you get a good read on your opponent. I also sometimes use it to make other players rage and blow off some steam, so give it a shot it's actually a lot of fun!

Future Prediction:

Never a real meta deck, more like the godmother of all disruption decks that is fun to play and also can be effective but I don't see this deck pushing to Infinity rank right now.

How to play this deck

P2 Destroy

This is a progressive evolution of the Pool 1 Destruct deck (see below) using some cool new cards that you can unlock in Pool 2. The general destruct cards stay the same, but you can play Killmonger to gain benefits but also counter other decks (like Zoo decks or other destruct decks). With Shang.Chi you can disarm locations easily that use high-power cards or power up early and Hobgoblin can ruin a location for your opponent out of nowhere effectively.

Future Prediction:

Not outstanding but performing alright given the fact that you use very early cards only in this deck.

How to play this deck
---
Conclusion
I hope you liked this overview of the best Nova decks in Marvel Snap today and find them helpful to run one of them this season – I'm sure they will be one of the strongest and you can push your rank quite well with it. If you have questions or annotations to the decks, please don't hesitate to write a comment below and I'll be more than happy to reply.