Are you looking for a deck that you can play with The Hood in it in Marvel Snap? The Hood can open up some interesting possibilities so I feel you will like this guide here – please mind, this guide here is getting the good decks directly from my popular meta decks list and gets updated each time I update my meta decks (at last once or twice per week), so you will never find any outdated decks here that are not flagged as old and outdated.
Is The Hood A Good Card in MARVEL SNAP?
The Hood is a nice 1-cost card that has -2 power but will give you the 6-power Demon in your hand and if you can get rid of The Hood after you played him, you can gain some nice synergy here.
---
The Hood in the current meta: Works really well in destroy archetype decks as they will help you a lot to to get rid of The Hood easily and turn him into respectable power..
---
Good Synergies with The Hood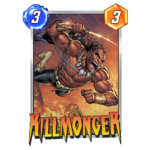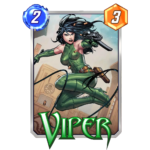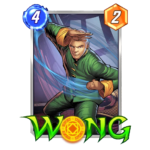 ---
The Best The Hood Decks
The decks here are ranked by how well the decks perform in the current meta. As I said earlier in this guide, the table will get updated every time I update the meta deck tier list here automatically!
DeathWave

A

DeathWave is incredibly powerful as you enable your win conditions from both side. Destroy cards and gain synergy there will make your Wave cheaper as well as every unspent energy reduced She-Hulk's cost. With Wave you can then reduce their cost to 4 energy plus their reduction, so sometimes you can drop both of them for something like 2-3 energy n total to overtake locations on the last turn easily.

Future Prediction:

DeathWave seems to fall behind more and more this season for the fact that the strong archetype of decks simply seem to regulate syergies well or simply overcome DeathWave with pure power if you don't draw into your lines well. Still, a solid deck to play if you're experienced, just make sure to bale to escape the ThanosLockjaw and strong Shuri setups.

How to play this deckMore Destroy Decks

Junk Control

B

This deck basically excists only to use disrupting and controlling cards to mess with your opponents synergies. It might requeire some skills to play but will teach you a lot about reading your opponent. This is a force-to-retreat deck that normally doesn't have the value for a showdown but whenever you see your opponent struggling a little or you getting under their skin, snap and let them retreat will help you win. If you see them snap, go out as you normally don't have the showdown value here.

Future Prediction:

Works around opponents with stronger decks not drawing into their lines. Requires some skill and has little to none showdown value but can gather cubes in the right hands.

Patriot Valkyrie

B

Only low-power cards that you can use alaong aptriot and with valkyrie you can then scale down any location where you opponent played only one or two high-power cards and take over with a flooded board easily.

Future Prediction:

Along Valkyrie you can deal with the many high-power decks with Shuri to give you next to Shang-Chi another way to scale down enemy powerplants.

Deathpool Venom Destroy

B

Using many destroy synergies, this deck can devlop a lot of power and also handle quite some controlling locations and cards your opponent might throw your way. Overall also a ton of fun to play when you scale up your cards well.

Future Prediction:

This deck is back into viable meta decks a little bit by surprise but the fact that you can use Bast to scale up your low-power cards before starting to use their destroy synergies can develop crazy power accross the board.

How to play this deck

Magik Disrupt

With Viper, Green Goblin and Titania you'll try to flip over Titania as long as you can fill your opponents side to make the swing in the last turn to get that location (see below in the Titania section how to do it) and with Sunspot, She-Hulk and Infinaut you try to build high power on another location to win. This deck is pretty straightforward to play with good capabilities to counter and annoy your opponent into retreating.

Future Prediction:

A strong disrupt deck that seems to be able to deal with the high-power decks we see right now as well as Thones decks in all variations.

How to play this deck

2-Lane Destroyer

A different Pool 3 version of a very good destruct deck is this one here, using Destroyer as the final card. This deck is really interesting as you also use cards to block destroy effects like Armor or Cosmo to make that strong final-turn move. What I like about this deck specifically is that it's not that obvious early on that you're playing a destroy deck so your opponent will get a weaker read on your next moves. In my opinion also a really strong deck that's absolutely worth giving a shot.

Future Prediction:

Has been getting better, espcially as you see Armor and Cosmo being played by other players, too and this will rather help you than disrupt you

How to play this deck

Ben Brode B-Head

Ben Brode is not only the creator of Marvel Snap, he also released this deck here as the ultimate disruption deck and it's a viable one that makes a lot of sense and can be effective if you get a good read on your opponent. I also sometimes use it to make other players rage and blow off some steam, so give it a shot it's actually a lot of fun!

Future Prediction:

Never a real meta deck, more like the godmother of all disruption decks that is fun to play and also can be effective but I don't see this deck pushing to Infinity rank right now.

How to play this deck

She-Hulk Baero

A great destruct deck where you can gain value directly of your cheap cards (Hood, Bucky Barnes) or feed them cheap into Carnage while reducing the cost of your Death card. With Wave on Turn 5 you can even get Death to 0-cost on Turn 6. The good thing here is, even without drawing into that line, you have Leader to copy your opponent, Aero to move his final push away or She-Hulk to find your win condition.

Future Prediction:

I ranked it down a little as many control cards are out there to make it hard for destroy decks to be really popular right now.

How to play this deckMore Destroy Decks

She-Hulk Combo

A great combo deck that uses the synergy between She-Hulk, Sunspot and The Infinaut along fitting cards for a great deck that appears weak up until the big power drops on the last turn.

Future Prediction:

Solid performance and similar as it was last seasnon, She-Hulk is just a good card for combo so I think it's save to predict her to stick around in the meta for quite some time.

How to play this deck

Nimrod Destroy

Revolve around using your negative Goblin cards to clogg up one location of your opponent to play Galactus in on Turn 6. Then play Nimrod in another location, ideally scaling him up through Shuri and use Wolverine as well on the right location or the lcoation left of Galactus to make sure he will jump into it.

Meta Dependency:

Can be quite predictable with the Goblins, Wolverine, Nimrod down, but with ARnim Zola, you still have a backdoor to play on Turn 6 if Galactus doesn't seem to do the trick.

How to play this deck
---
Conclusion
I hope you liked this overview of the best The Hood decks in Marvel Snap today and find them helpful to run one of them this season – I'm sure they will be one of the strongest and you can push your rank quite well with it. If you have questions or annotations to the decks, please don't hesitate to write a comment below and I'll be more than happy to reply.