Choosing a weapon in Survivor.io can be crucial, extremely crucial. You might recall from my evolution skill guide here that your primary weapon should always be the first evolution skill to get so picking the right one is the foundation of all success. Please read the evolution skill guide as well if you haven't as much in this guide here builds on top of that.
Also, there are a ton of new active gift codes for Survivor.io available so also check out our frequently updated list of active gift codes here as well.
Ok, now we're settled, let's talk the best weapon in Survivor.io
Weapon Ranking got just updated with the recent 1.8 Update
Upgrading Weapons
Yes, you get your investment in prints back when you want, but still, upgrading a weapon is a lot of hustle in Survivor.io, looking at that infographic Jacob BB posted on Reddit: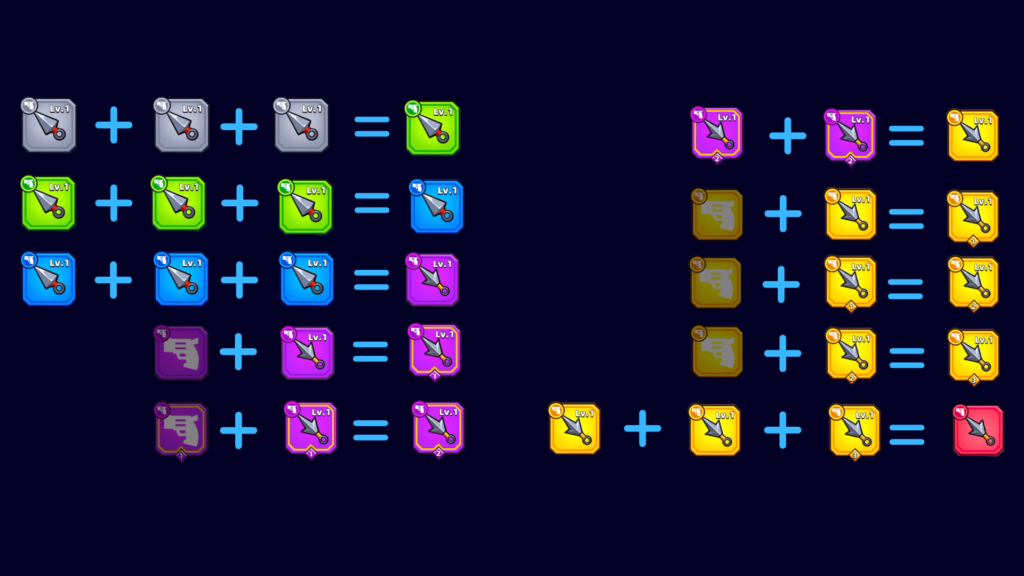 Survivor.io Weapon Tier List Ranking
Also important! If you're looking for the best gear that is not a weapon, please check out my freshly updated ranking for all the equipment in Survivor!.io here.
New: Check out the ranking and leveling-up strategy for the new survivors here.
Void Power

S+

The new Void Power weapon is insane, there are no other words to describe it. It's ranged and creates black holes that suck mobs in and takes damage so you slow them down and damage them already at epic rarity. For the very few players that are able to max it out in rarity those will even explode and deal damage in amounts that are beyond good and evil. Absolutely overpowered weapon in Survivor.io, even when not maxed...

Bosses: S+Waves: S+Usability: S+Best SkillsBest Gear

Lightchaser

S

The Lightchaser made it top of the list right out of the box. Well, not too surprising looking at other Habby games like Archero where new heroes and items are also stronger than anything else upon release (and surprise, surprise the Void Power took it's crown a few months after). Anyway, this is about Survivor.io and the new Lightchaser weapon is simply good. It offers more damage off the start, more percentage scales and with the sword array it's simply unstoppable.

Bosses: A+Waves: SUsability: SBest SkillsBest Gear

Kunai

A+

The Kunai is simply great! Good damage, auto-aim to the closest enemy and every star you gain will add one extra Kunai and damage as well. Super weapon to run in Survivor.io with only one downfall - the EVO skill is the one that gives more EXP which you absolutely not need at all so you will waste that one ability slot. But that still makes it the beast weapon for F2P and still one of the best overall in the game.

Bosses: A+Waves: AUsability: S+Best SkillsBest Gear

Baseball Bat

A

The Baseball Bat really shines on vertical maps and is an incredible weapon for the earlier stages in Survivor.io (and as we get all investments back we can easily switch to a different weapon later). It deals a lot more damage than the Katana or Shotgun at the same level and also the knockback can be really handy. I also like that it shares the EVO skill with the Brick so you can add one additional ability.

Bosses: AWaves: A+Usability: B+Best SkillsBest Gear

Shotgun

B

The Shotgun is kind of weird for multiple reasons. You have to aim and with the additional bullets you get with each star skill for it makes a nice spread - and the most positive thing I can say is that it uses the increased ATK as EVO skill that gives a good punch. But, the aiming is super annoying, especially in lower Star levels you will find yourself running around all the time. And when you get the EVO skill, it turns into a single-line machine gun without auto-aiming so you have to do a lot of moving to make a path or deal with crowds. It requires the right skills picked as well and then it can be useful, yes, but why not just pick a weapon that is more viable in the overall package?

Bosses: B+Waves: B+Usability: CBest SkillsBest Gear

Katana

C

The Katana is right now the worst weapon, in my opinion (yes, I know in the previous ranking it was way better), but simply the mechanics to hit back and forth, the EVO that doesn't really seem to add much to it and the fact that you need to get the damage reduction skill as EVO skill makes it by far less viable than the other weapons in Survivor.io! I got some messages of people that say you can make it work, which is true, but why making a lot of effort in moving around when you can pick one of the above weapons that are simply a lot easier to use and bring more bang to the table?!

Bosses: CWaves: BUsability: CBest SkillsBest Gear
---
Conclusion
I know the game is relatively fresh so expect more weapons, evolution skills and game modes to pop up in Survivor.io and I will adapt this list here as things change. I still feel it's important to give you a solid guide to start out rather to wait some months.
More weapon tier lists for similar games: