Are you looking for a deck that you can play with Absorbing Man in it in Marvel Snap? Absorbing Man can open up some interesting possibilities so I feel you will like this guide here – please mind, this guide here is getting the good decks directly from my popular meta decks list and gets updated each time I update my meta decks (at last once or twice per week), so you will never find any outdated decks here that are not flagged as old and outdated.
Is Absorbing Man A Good Card in MARVEL SNAP?
Not too expensive, Absorbing Man can duplicate any card's on reveal effect so you can either make it stronger, extend it for another round or even spread it to another location so make sure to check below the synergies to get some really effective ones..
---
Absorbing Man in the current meta: Absorbing Man is not on top of the meta, but as long as you can have cards with on reveal abilities that perform well, he can be versatile and fit into decks that perform well so it will be a card to have on your list..
---
Good Synergies with Absorbing Man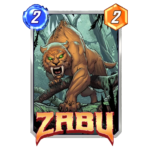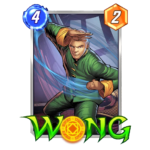 ---
The Best Absorbing Man Decks
The decks here are ranked by how well the decks perform in the current meta. As I said earlier in this guide, the table will get updated every time I update the meta deck tier list here automatically!
Negative Zabu

B

Turn all those 0-power cards with strong abilities with Mister Negative into free cards to play and scale it up through Wong , leaving you a ton ofpossibilities for your last turn

Future Prediction:

With very strong cards and the ability to drop them all for free you can run over your opponents out of nowhere if you can spot your chances well.

How to play this deck

Silver Surfer

This is one of the classic Silver Surfer decks taht uses a lot of 3-cost cards to flood the board and then scale them up through Silver Surfer at the last turn.

Future Prediction:

Surprising comeback of this traditional Silver Surfer decks as many 3-costs cards are very strong right now so this is a fused Good-Cards archetype deck with strong 3-costs cards and then Silver Surfer as the cherry on top that holds everything together.

How to play this deck

Negative Monkey

Using Mister Negative to manipulate high-cost cards with mutual low power to become cheap cards to drop along Hit Monkey ideally as free card at the last turn.

Future Prediction:

Starter Deck for playing the Hit Monkey Season, so no data so far how well this deck will perform in the meta.

How to play this deck

Ronan Sera

Stuffing your opponent's deck with trash card to prevent drawing and also scale up Ronan on your side is a effective deck.

Future Prediction:

With Master Mold, this deck becomes a lot more efficient to play and it can be really frustrating to face it with the Sentinels that stuff your hand you can't get rid of.

How to play this deck

Hela Absorbing Man

Hela along with Ghost Rider and Absorbing Man to bring back discarded cards like crazy and leaving the opponent often times no chance to overcome a crazy power push towards the end. This deck can snowball so strong, it's simply crazy!

Future Prediction:

Interesting where this deck will go towards as we have two new discard cards in this new Season so stay tuned

How to play this deck
---
Conclusion
I hope you liked this overview of the best Absorbing Man decks in Marvel Snap today and find them helpful to run one of them this season – I'm sure they will be one of the strongest and you can push your rank quite well with it. If you have questions or annotations to the decks, please don't hesitate to write a comment below and I'll be more than happy to reply.