Are you looking for a deck that you can play with Zabu in it in Marvel Snap? Zabu can open up some interesting possibilities so I feel you will like this guide here – please mind, this guide here is getting the good decks directly from my popular meta decks list and gets updated each time I update my meta decks (at last once or twice per week), so you will never find any outdated decks here that are not flagged as old and outdated.
Is Zabu A Good Card in MARVEL SNAP?
Zabu will give many 4-cost cards incredible value as you will basically be able to play them cheaper, so you can basically play two 4-cost cards at Turn 6..
---
Zabu in the current meta: Zabu was the featured card for the January 2023 season in Marvel Snap and came to dominate. He was on top of the meta until early February 2023 when he got nerfed. Even now after it got nerfed in February 2023 it's useful but is not that strong anymore..
---
Good Synergies with Zabu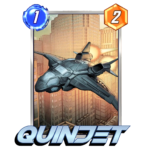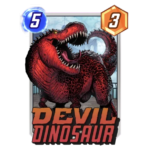 ---
The Best Zabu Decks
The decks here are ranked by how well the decks perform in the current meta. As I said earlier in this guide, the table will get updated every time I update the meta deck tier list here automatically!
Good Cards Wave

A+

Combining strong cards together that have a lot of potential along Wave to reduce their costs can not only be flexible but also build a lot of power on the board - and with several tech-counter cards you can always limit your opponent well.

Future Prediction:

Somewhat on the decline again after the balancing and now High Evolutionary entering the ring as well. A solid and good deck, still, but the dominance from last week is definately broken

How to play this deck

Stature Black Bolt

A

A disruptive discarding deck tailored around foring the opponent to discard a card to drop Stature cheaply on the board and scale through Darkhawk and have a ton of reactive cards you get cheaper through Zabu.

Future Prediction:

Quite on the decline now but with the OTA nerf last week that reduced Black Bolt and Stature power this makes sense to see. Still if you enjoy playing the deck go ahead it still perfroms well enough to climb to infinity

How to play this deckMore Discard Decks

High Evo

B+

Using High Evolutionary to add the evolution abilities to the cards without abilities and then play them around Wave to lockdown opponent power and gain synergies and benefits

Future Prediction:

First week of High Evolutionary but already quite a strike and a deck that talks top-of-the-meta language. We'll see where it will go but with High Evolutionary as one of the big-bad-cards that will stay Series 5 forever,I believe we have a new player in the ring

How to play this deck

Zabu DevilHawk

B+

The evolution of the initial Darkhawk deck that created a ton of buzz in January and post-Zabu nerf this is the deck still on the very top with cards that increase your handsize to scale Devil Dinosaur and shuffle rocks inot your opponents deck to scale up your Darkhawk.

Future Prediction:

Even more on the decline now after taking a heavy hit last week already, looks like the days of this deck are over as new meta archetypes and cards enter the battle

How to play this deckMore Control Decks

Negative Zabu

B

Turn all those 0-power cards with strong abilities with Mister Negative into free cards to play and scale it up through Wong , leaving you a ton ofpossibilities for your last turn

Future Prediction:

With very strong cards and the ability to drop them all for free you can run over your opponents out of nowhere if you can spot your chances well. Still a deck that is more niche than mainstream meta right now

How to play this deck

Nebula Control

A control-archetype deck build around Nebula, other GUardians of the Galaxy and new cards that can hold up and deal with other meta decks pretty good.Shut down lanes while playing cards that scale well and generate more power is the game-plan here while trying to prevent your opponent to get his comos or synergies done.

Future Prediction:

Not a deck to dominate, but one to shut the other decks down and take a victory when they don't draw into their lines

How to play this deck

Toxic Sera Control

This deck doesn't try to build up much power yourself, it relies on blocking your opponent to synergize through their decks to build much power (Enchantress, Shang-Chi and Killmonger helps a lot) and then using negative effects on their cards to decrease their power and with Hit Monkey at the end you have still the option for a power push.

Future Prediction:

With some new cards and the strength of Sera, this deck is still and again quite high in the list (although not that commonly played by that many players compared to the other decks here).

How to play this deckMore Control Decks

Negative Galactus

Through Mister Negative you can cheaply unlock the strong combo lines in this deck, but be prepared to retreat if lines don't fall into your favor. Can work great but also fail miserably making it a exciting, effective but also rng deck.

Future Prediction:

We'll see how reliable this deck sustains with the way Galactus is predictable but right now you can win well if you see your retreat/snap spots well.

How to play this deck

Negative Surfer

This deck works with many cards that have great effects but lower power themselves, so using cards like Bast and Mister Negative) to turn that around. Also has a ton of 3-cost cards that you can buff up with Silver Surfer in the end and if you can get Mister Negative on Iron Man you have a crazy push for one location that almost always wins it for you.

Future Prediction:

Still looking alright with some minor changes each season but Mister Negative turns low-power cards with strong abilities into cheap cards and this makes this deck really viable and strong.

How to play this deck

Silver Surfer

This is one of the classic Silver Surfer decks taht uses a lot of 3-cost cards to flood the board and then scale them up through Silver Surfer at the last turn.

Future Prediction:

Surprising comeback of this traditional Silver Surfer decks as many 3-costs cards are very strong right now so this is a fused Good-Cards archetype deck with strong 3-costs cards and then Silver Surfer as the cherry on top that holds everything together.

How to play this deck

Negative Monkey

Using Mister Negative to manipulate high-cost cards with mutual low power to become cheap cards to drop along Hit Monkey ideally as free card at the last turn.

Future Prediction:

Starter Deck for playing the Hit Monkey Season, so no data so far how well this deck will perform in the meta.

How to play this deck

Ronan Sera

Stuffing your opponent's deck with trash card to prevent drawing and also scale up Ronan on your side is a effective deck.

Future Prediction:

With Master Mold, this deck becomes a lot more efficient to play and it can be really frustrating to face it with the Sentinels that stuff your hand you can't get rid of.

How to play this deck

DazzlerThanos

Amazing zoo deck and Thanos keeps it all together with the stones that you will, ideally play for free through Quinjet to trigger your Mojo or Dazzler for the extra power boost. With Super-Skrull you can steal your opponent's win condition and with Armor and Cosmo great ways to interrupt your opponent or protect your ongoing cards from Enchantress.

Future Prediction:

Performing pretty wild right now although you mandatorily need Thanos to make this deck work. You will not play all Infinity Stones but sometimes it happens so don#t go for that primary and rather flood the board to activate Dazzler and Mojo.

How to play this deck

Ghost Control

Works around Shang-Chi and Enchantress as great and reliable counters through Ghost, reduced by Zabu to form a very stable deck to punish your opponents by revealing second every time.

Future Prediction:

Not too many right now but I think Ghost will become more popular once more available to more players.

How to play this deck

Quake Control

Quite an off-meta deck that uses locations hifting to steal cubes when opponents snap. Snapping back and gain big but retreat if things are not going your way.

Future Prediction:

People have reached Infinity with this deck without being in the meta, simply as shifting locations is something players aren#t that aware of but it's not meta-depending.

How to play this deck

Zabu Dinosaur

Combining good cards that work really well on their own in a handsize deck with Devil Dinosaur works surprisingly well and is a viable and affordable deck right now

Future Prediction:

We always have a deck of 'good cards' each season that make a great deck, this is this season's one.

How to play this deck

MODOK Hela Discard

Can also be called greedy Hela as the ability when all synergies work with this deck are incredible and crush everything - but there's much that can go wrong and probably a deck that you can only play when you cleary identify when you're behind and retreat continuously and snap at the right times.

Meta Dependency:

Works well and is a lot of fun to play, but the dependency on the win condition lines make it sometimes frustrating, too.

How to play this deckMore Discard Decks

Gambit Erasor

Use multiple cards along Gambit to completely wipe out all the cards your opponent played

Meta Dependency:

Not a meta deck but in the right hands with an experienced player, thsi deck can make a lot of fun

How to play this deck
---
Conclusion
I hope you liked this overview of the best Zabu decks in Marvel Snap today and find them helpful to run one of them this season – I'm sure they will be one of the strongest and you can push your rank quite well with it. If you have questions or annotations to the decks, please don't hesitate to write a comment below and I'll be more than happy to reply.