Are you looking for a deck that you can play with She-Hulk in it in Marvel Snap? She-Hulk can open up some interesting possibilities so I feel you will like this guide here – please mind, this guide here is getting the good decks directly from my popular meta decks list and gets updated each time I update my meta decks (at last once or twice per week), so you will never find any outdated decks here that are not flagged as old and outdated.
Is She-Hulk A Good Card in MARVEL SNAP?
She-Hulk is technically a 6-cost card but each unspent energy reduces her cost, so she become a 10-power card you normally can play a lot earlier than Turn 6 – especially paired with cards that reduce costs or cards that benefit from energy manipulation you will find her fit really well with..
---
She-Hulk in the current meta: She-Hulk is not too long in the game but picking up and has some spots in several decks that work really well right now, so absolutely a card you should take a look at if you unlocked her..
---
Good Synergies with She-Hulk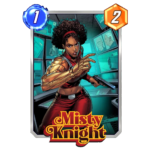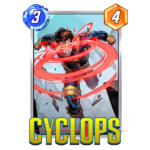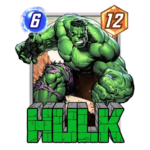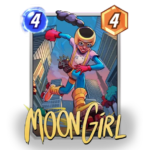 ---
The Best She-Hulk Decks
The decks here are ranked by how well the decks perform in the current meta. As I said earlier in this guide, the table will get updated every time I update the meta deck tier list here automatically!
High Evo

A

Using High Evolutionary to add the evolution abilities to the cards without abilities and then play them around Wave to lockdown opponent power and gain synergies and benefits

Future Prediction:

Still a reliable deck but the way the top decks can build power is sometimes too much and is has been declining a bit in the recent weeks.

How to play this deck

Shuri Sauron

B+

With Shuri you can still build a lot of power and although itÄs more predictable, it still works and unless your opponent has something to directly counter in his hand, this deck is still alive and working.

Future Prediction:

Big loser compared to last week and a deck that struggles more recently again with the new cards and decks that are now able to build a ton of power and also lockdown Shuri a lot more frequently.

How to play this deck

She-Hulk Combo

A great combo deck that uses the synergy between She-Hulk, Sunspot and The Infinaut along fitting cards for a great deck that appears weak up until the big power drops on the last turn.

Future Prediction:

Solid performance and similar as it was last seasnon, She-Hulk is just a good card for combo and can perform well although a less popular deck recently

How to play this deck

She-Monkey

Self-scaling cards along limiting cards make this deck not only fun to play but also gives you a ton of flexibility to build your power and react to what your opponent is up to.

Future Prediction:

A relatively new deck but one that has been performing strong recently and is absolutely one that you can run to climb the ranks

How to play this deck

DeathWave

DeathWave is incredibly powerful as you enable your win conditions from both side. Destroy cards and gain synergy there will make your Wave cheaper as well as every unspent energy reduced She-Hulk's cost. With Wave you can then reduce their cost to 4 energy plus their reduction, so sometimes you can drop both of them for something like 2-3 energy n total to overtake locations on the last turn easily.

Future Prediction:

DeathWave seems to be more in business since Wave has become a way stronger card in the meta recently and with all the versatile options you have here now. Probably the most accessible deck high in the meta right now.

How to play this deckMore Destroy Decks

DoomWave Nebula

This deck combines a lot of cheaper cards with great value and then builds a bridge through Wave to play high-costs cards that are really effective. There's no specific synergies here you're after, you basically play the cards you have and try to make the most out of it, which works quite well as you don#t have to rely on specific lines to draw into.

Future Prediction:

DoomWave with Nebula is taking over a lot recently and makes it on par with the other top decks in the Marvel Snap meta right now. I feel it's not THAT strong as the decks above, but overall a very reliable and good deck to play.

How to play this deck

SheNaut

Have your growing cards along Nebula that will put a lot more pressure on your opponent with the high-power drops you can do on Turn 6 (ideally skip Turn 5, play Infinaut or She Hulk along other cards while SUnspot and Nebula scale up) is not easy to deal with for your opponent.

Future Prediction:

No crazy new combinations but the way this deck got another great addition with Nebula makes it gain more attention in the meta recently.

Magik She-Hulk

Not a deck with specific synergies, more good cards that go well along each other to find your win condition with the extra turn magik generates for you.

Future Prediction:

Works well this season now after the recent patch but not sure if it will make meta. Fun to play for sure, though.

How to play this deck

Magik Disrupt

With Viper, Green Goblin and Titania you'll try to flip over Titania as long as you can fill your opponents side to make the swing in the last turn to get that location (see below in the Titania section how to do it) and with Sunspot, She-Hulk and Infinaut you try to build high power on another location to win. This deck is pretty straightforward to play with good capabilities to counter and annoy your opponent into retreating.

Future Prediction:

A strong disrupt deck that seems to be able to deal with the high-power decks we see right now as well as Thones decks in all variations.

How to play this deck

Magic Monkey

Using Magik with the additonal turn to make your last push with more energy to scale up Hit Monkey to become a high power card among the other cards you'll drop.

Future Prediction:

Starter Deck for playing the Hit Monkey Season, so no data so far how well this deck will perform in the meta.

How to play this deck

High Evolutionary Package

Using High Evolutionary to unlock the evolution abilities of your cards that usually have no abilities - making them reduce enemy card power and self-reducing costs to find your win condition

Future Prediction:

High Evolutionary is a new 'big bad card' and this pure deck that works around the cards that gain evolved abilities works quite stable in the current meta

How to play this deck

She-Hulk Baero

A great destruct deck where you can gain value directly of your cheap cards (Hood, Bucky Barnes) or feed them cheap into Carnage while reducing the cost of your Death card. With Wave on Turn 5 you can even get Death to 0-cost on Turn 6. The good thing here is, even without drawing into that line, you have Leader to copy your opponent, Aero to move his final push away or She-Hulk to find your win condition.

Future Prediction:

I ranked it down a little as many control cards are out there to make it hard for destroy decks to be really popular right now.

How to play this deckMore Destroy Decks

Quake Control

Quite an off-meta deck that uses locations hifting to steal cubes when opponents snap. Snapping back and gain big but retreat if things are not going your way.

Future Prediction:

People have reached Infinity with this deck without being in the meta, simply as shifting locations is something players aren#t that aware of but it's not meta-depending.

How to play this deck

Zabu Dinosaur

Combining good cards that work really well on their own in a handsize deck with Devil Dinosaur works surprisingly well and is a viable and affordable deck right now

Future Prediction:

We always have a deck of 'good cards' each season that make a great deck, this is this season's one.

How to play this deck

Valkyrie Control

Play all the Infinity Stones, ideally for free through Quinjet or Beast and scale them up through Ka-Zar and Blue Marvel. The beauty here is that you can use Professor X to lock down one location you have the lead in and Valkyrie to scale down high-power cards your opponent has

Future Prediction:

With many cards that ramp up a lot of power, this deck comes into meta more and more ans you interrupt combos and scale down the high-power cards accross the boards quite well.

How to play this deck

Snowguard Control

Use control-heavy cards along Snowguard to push your opponent agisnt the wall by leaving them only little options and taking great locations effects or negate the ones that are not in your favor

Meta Dependency:

Not a meta deck univerally but sometimes with weird featured locations it can work well to gain some cibes

How to play this deck

Thanos Lockjaw Death

This Thanos Lockjaw deck version works also really well and has a lot of ongoing cards to get some additional power to push at the end.

Future Prediction:

Thanos Lockjaw after all is on the decline and there are simply too many ways to beat this deck to make it really viable right now.

How to play this deck
---
Conclusion
I hope you liked this overview of the best She-Hulk decks in Marvel Snap today and find them helpful to run one of them this season – I'm sure they will be one of the strongest and you can push your rank quite well with it. If you have questions or annotations to the decks, please don't hesitate to write a comment below and I'll be more than happy to reply.