Are you looking for a deck that you can play with The Infinaut in it in Marvel Snap? The Infinaut can open up some interesting possibilities so I feel you will like this guide here – please mind, this guide here is getting the good decks directly from my popular meta decks list and gets updated each time I update my meta decks (at last once or twice per week), so you will never find any outdated decks here that are not flagged as old and outdated.
Is The Infinaut A Good Card in MARVEL SNAP?
The Infinaut can only be played actively if you skip Turn 5, so opponents often know what you're up to. Overall brings a ton of power to the board and if played with other cards you can still get your Turn 5 play and get his power on the board – so, yes, when played right a powerful card in Marvel Snap!.
---
The Infinaut in the current meta: He is powerful, but predictable if not played well. Part of several meta decks, though, and if protected/played right a push that it hard to defend against at the end of the match and can be your win condition frequently..
---
Good Synergies with The Infinaut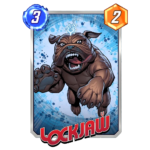 ---
The Best The Infinaut Decks
The decks here are ranked by how well the decks perform in the current meta. As I said earlier in this guide, the table will get updated every time I update the meta deck tier list here automatically!
Lockjaw Thor Evo

S+

Starting with your cheap cards you can either start populating the locations and gain some advatage to built up and Thor helps a lot by generating his Hammer that you can then draw through Jane Foster, feed into Lockjaw to scale up Thor and then Lockjaw rotates into something more powerful. THis deck is really powerful once you can get your combo lined up but also be ready to retreat if things aren't going your way as don't have the craziest backdoor. Still, sometimes you can still win a match even without that Thror, Jane Foster, Mjolnir, Lockjaw into Infinaut rotation.

Future Prediction:

Adding Spider Ham gives some nie disruptive addition and also a good additional card to cycle through Lockjaw, but Bounce and Sera Control seem to be a little better right now.

How to play this deck

Hela Discard

B+

The mother of all discard decks and super viable. You discard with Lady Sif, Sword Master and Hell Cow and then try to get Ghost Rider and Hela on the board to bring (hopefully powerful cards you discarded) back on the board.

Future Prediction:

Can build amazing power but the only way to really gain cubes with it when you can max out the snap and snap-back cube gains as you will have to retreat a lot with this deck

How to play this deckMore Discard Decks

SheNaut

Have your growing cards along Nebula that will put a lot more pressure on your opponent with the high-power drops you can do on Turn 6 (ideally skip Turn 5, play Infinaut or She Hulk along other cards while SUnspot and Nebula scale up) is not easy to deal with for your opponent.

Future Prediction:

No crazy new combinations but the way this deck got another great addition with Nebula makes it gain more attention in the meta recently.

Zerocula

This deck has two sides that you normally don't see together, the Zoo aspect with many cards that get buffed up but also the high-power push cards towards the end, giving your opponent a hard time to deal with in Marvel Snap. With Zero you can also play your Red Skull without buffing up your enemy or your Infinaut despite played a card on Turn 5. Dracula can become a little bit of a gamble but if you see you have your high-power cards in your hand at Turn 4 it's worth gicing it a shot.

Future Prediction:

We haven't heard much of this deck recently but it seems that Dracula along other cards gained some momentum after the recent balance changes.

How to play this deckMore Ongoing Decks

Magik She-Hulk

Not a deck with specific synergies, more good cards that go well along each other to find your win condition with the extra turn magik generates for you.

Future Prediction:

Works well this season now after the recent patch but not sure if it will make meta. Fun to play for sure, though.

How to play this deck

Magik Disrupt

With Viper, Green Goblin and Titania you'll try to flip over Titania as long as you can fill your opponents side to make the swing in the last turn to get that location (see below in the Titania section how to do it) and with Sunspot, She-Hulk and Infinaut you try to build high power on another location to win. This deck is pretty straightforward to play with good capabilities to counter and annoy your opponent into retreating.

Future Prediction:

A strong disrupt deck that seems to be able to deal with the high-power decks we see right now as well as Thones decks in all variations.

How to play this deck

Hela Absorbing Man

Hela along with Ghost Rider and Absorbing Man to bring back discarded cards like crazy and leaving the opponent often times no chance to overcome a crazy power push towards the end. This deck can snowball so strong, it's simply crazy!

Future Prediction:

Interesting where this deck will go towards as we have two new discard cards in this new Season so stay tuned

How to play this deck

MODOK Lockjaw

A pure discard deck that will scale Mobius through all the discarding, ultimately clearing your whole hand to make Apocalypse insenly powerful and make Dracule switch into him at the very end. many plays and a solid deck for MODOK.

Future Prediction:

Works well and seems like MODOK is getting more and more into the meta and I rather see that kind of decks rise in the next week than anything else.

How to play this deckMore Discard Decks

MODOK Hela Discard

Can also be called greedy Hela as the ability when all synergies work with this deck are incredible and crush everything - but there's much that can go wrong and probably a deck that you can only play when you cleary identify when you're behind and retreat continuously and snap at the right times.

Meta Dependency:

Works well and is a lot of fun to play, but the dependency on the win condition lines make it sometimes frustrating, too.

How to play this deckMore Discard Decks
---
Conclusion
I hope you liked this overview of the best The Infinaut decks in Marvel Snap today and find them helpful to run one of them this season – I'm sure they will be one of the strongest and you can push your rank quite well with it. If you have questions or annotations to the decks, please don't hesitate to write a comment below and I'll be more than happy to reply.