Are you looking for a deck that you can play with Leech in it in Marvel Snap? Leech can open up some interesting possibilities so I feel you will like this guide here – please mind, this guide here is getting the good decks directly from my popular meta decks list and gets updated each time I update my meta decks (at last once or twice per week), so you will never find any outdated decks here that are not flagged as old and outdated.
Is Leech A Good Card in MARVEL SNAP?
Leech will block all abilities of all cards in your opponent's hand so you can basically block many enemy synergies and build-ups on Turn 6. His ability got changed so getting him on the board before Turn 5 will not remove any abilities before Turn 6..
---
Leech in the current meta: You can block most final moves, like discarding cards or any other effects so they come down to play the plain power and you will not rarely see your opponent retreat – but be aware, Infinaut is not uncommon so you might also make an Infinaut possible with Leech..
---
Good Synergies with Leech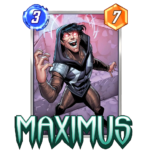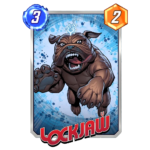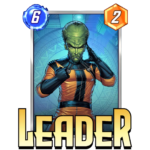 ---
The Best Leech Decks
The decks here are ranked by how well the decks perform in the current meta. As I said earlier in this guide, the table will get updated every time I update the meta deck tier list here automatically!
Lockjaw Thanos

A

The return of Thanos Lockjaw that found a strong win condition and with Killmonger you have more chances to pull strong cards + the reveal effects from the Infinity Stones through Lockjaw on the board

Future Prediction:

One of the biggest winners in the past week and the first time Thanos made it back to the higher part of the tier list for quite some time.

How to play this deckMore Thanos DecksMore Lockjaw Decks

Zerocula

This deck has two sides that you normally don't see together, the Zoo aspect with many cards that get buffed up but also the high-power push cards towards the end, giving your opponent a hard time to deal with in Marvel Snap. With Zero you can also play your Red Skull without buffing up your enemy or your Infinaut despite played a card on Turn 5. Dracula can become a little bit of a gamble but if you see you have your high-power cards in your hand at Turn 4 it's worth gicing it a shot.

Future Prediction:

We haven't heard much of this deck recently but it seems that Dracula along other cards gained some momentum after the recent balance changes.

How to play this deckMore Ongoing Decks

Leech Leader

This deck follows less of a synergy in total but it uses cards that are significantly stronger than normal and providing great value on their own. This means they either disrupt enemy synergies well early (Scorpion, Armor, Cosmo) or have great return value for the energy spend (Sunspot, Lizard, Maximus). With White Queen you can draw your opponents win condition Shang Chi destroys any high-power cards, Leech disrupts their last turn, Aero and Magneto move cards around to keep your tiles clean and Leader basically copy your opponents move if you have the lead in 2 locations by the beginning of Turn 6.

Future Prediction:

Yes, Leader got changed but is still a viable card and you have the other strong cards to find your win condition with this deck.

How to play this deck
---
Conclusion
I hope you liked this overview of the best Leech decks in Marvel Snap today and find them helpful to run one of them this season – I'm sure they will be one of the strongest and you can push your rank quite well with it. If you have questions or annotations to the decks, please don't hesitate to write a comment below and I'll be more than happy to reply.