Are you looking for a deck that you can play with Wave in it in Marvel Snap? Wave can open up some interesting possibilities so I feel you will like this guide here – please mind, this guide here is getting the good decks directly from my popular meta decks list and gets updated each time I update my meta decks (at last once or twice per week), so you will never find any outdated decks here that are not flagged as old and outdated.
Is Wave A Good Card in MARVEL SNAP?
Wave is an amazing card to reduce higher-cost cards to be played earlier and also block you opponent to play multiple cards, too. Also mind, this means that cards that reduce their costs (like Death or She-Hulk) will apply their reducction AFTER Wave made them cheaper, so they can potentially become 0-cost cards after Wave..
---
Wave in the current meta: Wave viability lives as long as cards she has synergies with (like Death, Galactus, etc.) are working well in meta decks. Potentially I always see her close to the meta as some of those cards will always be strong..
---
Good Synergies with Wave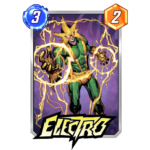 ---
The Best Wave Decks
The decks here are ranked by how well the decks perform in the current meta. As I said earlier in this guide, the table will get updated every time I update the meta deck tier list here automatically!
DoomWave

A+

This deck combines a lot of cheaper cards with great value and then builds a bridge through Wave to play high-costs cards that are really effective. There's no specific synergies here you're after, you basically play the cards you have and try to make the most out of it, which works quite well as you don#t have to rely on specific lines to draw into.

Future Prediction:

Combining good cards together, this is probably by far the best chance to run a competitive deck in the current meta without having Series 4 and Series 5 cards. It will struggle against the ThanosLockjaw and Shuri deck so retreat if you see what's coming there but overall a deck to push right now.

DeathWave

A

DeathWave is incredibly powerful as you enable your win conditions from both side. Destroy cards and gain synergy there will make your Wave cheaper as well as every unspent energy reduced She-Hulk's cost. With Wave you can then reduce their cost to 4 energy plus their reduction, so sometimes you can drop both of them for something like 2-3 energy n total to overtake locations on the last turn easily.

Future Prediction:

DeathWave seems to fall behind more and more this season for the fact that the strong archetype of decks simply seem to regulate syergies well or simply overcome DeathWave with pure power if you don't draw into your lines well. Still, a solid deck to play if you're experienced, just make sure to bale to escape the ThanosLockjaw and strong Shuri setups.

How to play this deckMore Destroy Decks

Galactus Destroy

B+

This deck is really frustrating to deal with for your opponent as you will try to use your Elektro or Wave to draw into your Galactur before Turn 5 and then ruin basically the whole locations except one that will show down on the last turn. Nothing your opponent built up until that will count and you can catch him pretty off guard with it. If you play Doctor Octopus before Galactus and basically empty your opponents hand or Leech to block all enemy cards' abilities. Very strong and easy to play.

Future Prediction:

Nimrod gave the Galactus decks more a direction towards destroy as you gain extra power for Knull or can use Destroyer as backup line. Falls behind the top decks and is a little predictable but still a slid deck to run.

How to play this deckMore Control Dekcs

Electro Sandman Ramp

B+

I love this deck a lot as you can play it two ways, either by using Psylocke to reduce your cards cost and then use Wave as well to get a grat final push where you can drop two 6-cost cards or you use Electro to be able to play 5-cost and 6-cost cards on earlier. You can use Leech on Turn 4 to already block your opponents abilities and with your 6-cost cards you always be able to find a win condition on the last turn.

Future Prediction:

A very control-heavy deck that now uses Nimrod through Arnim Zola as well to gain a lot of potential reach and flexibility towards the end + the fact that you don't need many Series 4 and Series 5 cards makes it a solid pick for F2P and new players.

How to play this deck

MODOK Ramp

MODOK works incredibly well in a ramp deck, too. Play him into Invisible Woman and make sure you have Hela behind him. So, then MODOK will discard your whole deck and Hela brings all cards back without rng

Future Prediction:

With the change to Zabu and SIlver Surfer the game is a little looking for meta right now and MODOK seems to step it up a bit

How to play this deck

She-Hulk Baero

A great destruct deck where you can gain value directly of your cheap cards (Hood, Bucky Barnes) or feed them cheap into Carnage while reducing the cost of your Death card. With Wave on Turn 5 you can even get Death to 0-cost on Turn 6. The good thing here is, even without drawing into that line, you have Leader to copy your opponent, Aero to move his final push away or She-Hulk to find your win condition.

Future Prediction:

I ranked it down a little as many control cards are out there to make it hard for destroy decks to be really popular right now.

How to play this deckMore Destroy Decks

Galactus Kang

A great deck that uses Kang to place your Galactus perfectly fine at the end and take over the game

Future Prediction:

We'll see where this will go but Kang makes Galactus perform a lot more reliable so I assume we will see him more in the next weeks

How to play this deck

Zabu Dinosaur

Combining good cards that work really well on their own in a handsize deck with Devil Dinosaur works surprisingly well and is a viable and affordable deck right now

Future Prediction:

We always have a deck of 'good cards' each season that make a great deck, this is this season's one.

How to play this deck

Cerebro 5

Use all 5-power cards to buff them up with Cerebro and mystique to become 9-power cards. With Wave you can play Nimrod earlier or use Magik to buy you an additional turn. Then drop Cerebro and Mystique at the end together for a +4 power to each card.

Meta Dependency:

A new deck to work with Nimrod for the start of the new season, we'll have to see how well it performs against the other meta decks.

How to play this deck
---
Conclusion
I hope you liked this overview of the best Wave decks in Marvel Snap today and find them helpful to run one of them this season – I'm sure they will be one of the strongest and you can push your rank quite well with it. If you have questions or annotations to the decks, please don't hesitate to write a comment below and I'll be more than happy to reply.