Are you looking for a deck that you can play with Lizard in it in Marvel Snap? Lizard can open up some interesting possibilities so I feel you will like this guide here – please mind, this guide here is getting the good decks directly from my popular meta decks list and gets updated each time I update my meta decks (at last once or twice per week), so you will never find any outdated decks here that are not flagged as old and outdated.
Is Lizard A Good Card in MARVEL SNAP?
Lizard has amazing energy-to-power ratio and is considered one of the best 2-cost cards in the game with little downsides, even when your opponent triggers the ongoing effect to reduce his power. Little to lose here..
---
Lizard in the current meta: You can find Lizard in so many decks as he will build pressure early on and doesn't depend on any synergy cards, you see him being played a lot right now..
---
Good Synergies with Lizard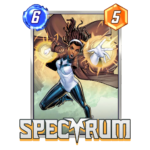 ---
The Best Lizard Decks
The decks here are ranked by how well the decks perform in the current meta. As I said earlier in this guide, the table will get updated every time I update the meta deck tier list here automatically!
Shuri Zero

S

This deck snowballs heavily as pretty much all cards carry high power that you multiplay through Shuri and then pass to Taskmaster. With Zero you can also start comfortably play your Typhoid Mary or Red Skull without fearing the ability that buffs your opponent. Taskmaster and Arnim Zola are great high-power plays in the end and you will have a lot of high-power cards active here towards the end.

Future Prediction:

Still the strongest deck behind Thanos Lockjaw and can compete with it when things work well - but overall in usage and win rate clearly number two behind Thanos Lockjaw.

How to play this deckMore Shuri DecksMore Zero Decks

Zabu Sera Control

S

This new version with Zabu performs incredibly well as you will get a ton of cards to feed into Bishop for extra power and Carnage to scale up. Ultimately you will control your opponent through either Enchantress, Shang-Chi or Killmonger will be a great help to deal with any win condition your opponent might come up with and also with Rescue a good power card in your hand.

Future Prediction:

This deck seems to have a better time keeping at pace with the ShuriZero and ThanosLockjaw decks out there as you can use all the control effects well against them.

How to play this deckMore Zabu DecksMore Control Decks

Thanos Zoo

S

Several Thanos decks emerged since his release, but this Zoo deck seems to work best by reducing the costs qith Quinjet to basically get them to play for free. With Beast and Carnage you haev the ability to free up locations and Angela and Bishop grow stronger and stronger with each card played. At the end you either buff up Thanos incredibly and/or can use Blue Marvel or Valkyrie to buff up your cards power on the board.

Future Prediction:

Thanos os simply doing too well right now so this zoo deck will perform also really strong. Works clearly less effective than Thanos Lockjaw, though.

How to play this deckMore Thanos Decks

DoomWave

A+

This deck combines a lot of cheaper cards with great value and then builds a bridge through Wave to play high-costs cards that are really effective. There's no specific synergies here you're after, you basically play the cards you have and try to make the most out of it, which works quite well as you don#t have to rely on specific lines to draw into.

Future Prediction:

Combining good cards together, this is probably by far the best chance to run a competitive deck in the current meta without having Series 4 and Series 5 cards. It will struggle against the ThanosLockjaw and Shuri deck so retreat if you see what's coming there but overall a deck to push right now.

Shuri Nimrod Ramp

B

This Shuri deck version incorporates Nimrod to scale up as well and givey ou more flexible lines to play towards the end.

Future Prediction:

Shuri is pretty strong and with Nimrod you gain a ton of flexibility here. Not on top of the meta but if you like Shuri and want to play Nimrod you can make this deck work.

Budget Ongoing

Play as many cards as you can early and then buff them up with the higher-cost cards to gain more power, espcially with Onslaught who doubles that buff you can get a nice result at the end of Turn 6

Future Prediction:

This deck can make a solid appearance. It lacks some high power to compete with the high-ranked decks in Marvel Snap above, but still solid

How to play this deckMore Ongoing Decks

Sandman Kazoo

The idea here is to flood the board early and by the time your opponent can play the more powerful cards, you limit down with Sandman and buff up your cards zoo-style

Future Prediction:

Still viable and useful and espcially for newer players absolutely a deck to check out, although falling out of the meta slowly but steady.

How to play this deckMore Ongoing Decks

Toxic Sera Control

This deck doesn't try to build up much power yourself, it relies on blocking your opponent to synergize through their decks to build much power (Enchantress, Shang-Chi and Killmonger helps a lot) and then using negative effects on their cards to decrease their power.

Future Prediction:

Seems to work with popular decks right now, espcially with Thanos zoo decks as the Infinity Stones are great targets for Hazmat and blocking with Luke Cage gives you a good edge here.

How to play this deck

Zerocula

This deck has two sides that you normally don't see together, the Zoo aspect with many cards that get buffed up but also the high-power push cards towards the end, giving your opponent a hard time to deal with in Marvel Snap. With Zero you can also play your Red Skull without buffing up your enemy or your Infinaut despite played a card on Turn 5. Dracula can become a little bit of a gamble but if you see you have your high-power cards in your hand at Turn 4 it's worth gicing it a shot.

Future Prediction:

Seems to be more viable again recently with the high-power cards that have abilities.

How to play this deck

Dino Control

This early Pool 3 control deck with Devil Dino is insane and uses Daredevil to foresee your opponents' semi-last move so you can very reliably find your win condition and push really far, up to infinity without much problems.

Future Prediction:

A solid deck and a good start into Pool 3, although Devil Dino is more and more on the decline this deck will not be as meta-defining as it used to be end of 2022. Still, if you lack some of the cards above give it a shot, it performs well as all control decks do these days and with Leader in the meta anyway

How to play this deck

Leech Leader

This deck follows less of a synergy in total but it uses cards that are significantly stronger than normal and providing great value on their own. This means they either disrupt enemy synergies well early (Scorpion, Armor, Cosmo) or have great return value for the energy spend (Sunspot, Lizard, Maximus). With White Queen you can draw your opponents win condition Shang Chi destroys any high-power cards, Leech disrupts their last turn, Aero and Magneto move cards around to keep your tiles clean and Leader basically copy your opponents move if you have the lead in 2 locations by the beginning of Turn 6.

Future Prediction:

Yes, Leader got changed but is still a viable card and you have the other strong cards to find your win condition with this deck.

How to play this deck

Sauron Sees All

Similar to the Shuri Zero deck, Sauron makes a great addition with some small changes so you can use all cards that have an ongoing effect that has a negative impact as Sauron will clear it.

Future Prediction:

Pretty strong but most synergies come from the way Shuri interacts with certain cards, so this deck does naturally well. It depends a lot on Sauron to be played but you can still make it work without him but as a new card you should always be a little cautious so I ranked it slightly lower than the Shuri zero deck.

How to play this deck

Ghost Control

Works around Shang-Chi and Enchantress as great and reliable counters through Ghost, reduced by Zabu to form a very stable deck to punish your opponents by revealing second every time.

Future Prediction:

Not too many right now but I think Ghost will become more popular once more available to more players.

How to play this deck

Quake Control

Quite an off-meta deck that uses locations hifting to steal cubes when opponents snap. Snapping back and gain big but retreat if things are not going your way.

Future Prediction:

People have reached Infinity with this deck without being in the meta, simply as shifting locations is something players aren#t that aware of but it's not meta-depending.

How to play this deck

Cerebro 5

Use all 5-power cards to buff them up with Cerebro and mystique to become 9-power cards. With Wave you can play Nimrod earlier or use Magik to buy you an additional turn. Then drop Cerebro and Mystique at the end together for a +4 power to each card.

Meta Dependency:

A new deck to work with Nimrod for the start of the new season, we'll have to see how well it performs against the other meta decks.

How to play this deck
---
Conclusion
I hope you liked this overview of the best Lizard decks in Marvel Snap today and find them helpful to run one of them this season – I'm sure they will be one of the strongest and you can push your rank quite well with it. If you have questions or annotations to the decks, please don't hesitate to write a comment below and I'll be more than happy to reply.