Are you looking for a deck that you can play with Ant-Man in it in Marvel Snap? Ant-Man can open up some interesting possibilities so I feel you will like this guide here – please mind, this guide here is getting the good decks directly from my popular meta decks list and gets updated each time I update my meta decks (at last once or twice per week), so you will never find any outdated decks here that are not flagged as old and outdated.
Is Ant-Man A Good Card in MARVEL SNAP?
A great innocent card that you can scale up for more power and make benefit from other ongoing synergies well.
---
Ant-Man in the current meta: He's cheap, has a ton on ongoing synergies and you can see him played in so many decks from starter to infinity rank..
---
Good Synergies with Ant-Man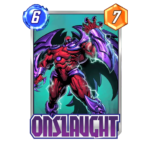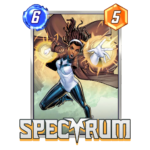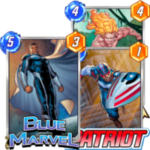 ---
The Best Ant-Man Decks
The decks here are ranked by how well the decks perform in the current meta. As I said earlier in this guide, the table will get updated every time I update the meta deck tier list here automatically!
Budget Ongoing

Play as many cards as you can early and then buff them up with the higher-cost cards to gain more power, espcially with Onslaught who doubles that buff you can get a nice result at the end of Turn 6

Future Prediction:

This deck can make a solid appearance. It lacks some high power to compete with the high-ranked decks in Marvel Snap above, but still solid

How to play this deckMore Ongoing Decks

Sandman Kazoo

The idea here is to flood the board early and by the time your opponent can play the more powerful cards, you limit down with Sandman and buff up your cards zoo-style

Future Prediction:

Still viable and useful and espcially for newer players absolutely a deck to check out, although falling out of the meta slowly but steady.

How to play this deckMore Ongoing Decks

SheNaut

Have your growing cards along Nebula that will put a lot more pressure on your opponent with the high-power drops you can do on Turn 6 (ideally skip Turn 5, play Infinaut or She Hulk along other cards while SUnspot and Nebula scale up) is not easy to deal with for your opponent.

Future Prediction:

No crazy new combinations but the way this deck got another great addition with Nebula makes it gain more attention in the meta recently.

Thanos Zoo

This Thanos deck uses all cards with ongooing abilities that you can use later to buff up through Spectrum and not care about Cosmo to counter your plays.

Future Prediction:

Thanos Zoo has been invisible but as ongoing meta is gaining some momentum, this is a variation that can sustain in the meta. Not dominating but if you really want to play Thanos right now, this is the deck you might give a shot.

How to play this deckMore Ongoing Decks

Magik She-Hulk

Not a deck with specific synergies, more good cards that go well along each other to find your win condition with the extra turn magik generates for you.

Future Prediction:

Works well this season now after the recent patch but not sure if it will make meta. Fun to play for sure, though.

How to play this deck

Basic Devil Dino

The basic Devil Dino deck with many cards that will grow your hand so your Devil Dino at the end will get as powerful as possible. With Moon Girl even clone to drop a Devil Dinosaur on Turn 5 and Turn 6.

Future Prediction:

Used to be incredibly popular in November 2022 but has been losing popularity since then as there are so many cards that will counter and disrupt Devil Dino these days.

How to play this deck

Basic Discard

this deck here resolve around the cards that gain power when getting discarded, like Apocalypse that will gain extra power so you can get a big comeback at the end. You have several cards in your deck that have nice cost/power ratio with the ability to discard a card in your deck. Can be a little rng as you want this effect to take place on your Apocalypse so sometimes it just doesn't run well - but if it does, you can throw in a 20-power card at the end and take over a tile effortlessly or even snowball through the full board.

Future Prediction:

As a very basic Discard Deck this will do fine and you have easy access to the cards. Still, there are some very powerful advanced discard cards like Hell Cow or Hela missing so you can get far but not to the very top with this deck

How to play this deck

DazzlerThanos

Amazing zoo deck and Thanos keeps it all together with the stones that you will, ideally play for free through Quinjet to trigger your Mojo or Dazzler for the extra power boost. With Super-Skrull you can steal your opponent's win condition and with Armor and Cosmo great ways to interrupt your opponent or protect your ongoing cards from Enchantress.

Future Prediction:

Performing pretty wild right now although you mandatorily need Thanos to make this deck work. You will not play all Infinity Stones but sometimes it happens so don#t go for that primary and rather flood the board to activate Dazzler and Mojo.

How to play this deck

KaZoo

you have a ton of 1 Energy cards that give you great advantages (see below) and then use Kazar and Blue Marvel to increase their power towards the end. Alternatively, you can run the line of Strong Guy at the end if you see that you can empty your hand to make a big push on one location at the last turn.

Future Prediction:

Still a solid starting deck and working but people learned well to deal with it and espcially with Killmonger and other control cards being very common you'll struggle with this deck starting Pool 3 (latest).

How to play this deck

Ongoing Destroyer

The Destroyed Deck was always fun as you have this crazy push towards the end that turns around so much. Armor is very important to gain the lead in one location or Cosmo to prevent Destroyer to wipe out but still have the high power.

Future Prediction:

Not the latest deck and around for quite some time and working well but struggles more and more with the newer decks I recently added as they will compete for all locations and the Destroyer sometimes just doesn't have enough power to gain that win condition.

More Destroy Decks

P2 Discard

This deck here is the evolution of the Pool 1 Discard deck below with the new cards that become available in Pool 2 with discard effects, and cards like Morbius and Swarm give this deck a lot more viability and the synergies are a lot stronger since you have less 'filler' cards. Apocalypse is still your primary goal but you just have better benefits from discard effects overall.

Future Prediction:

It's not useing the advanced Pool 3 Discard cards and with all the control decks around discard decks have a hard time these days anyways, more a beginning or classic deck to play around with than a deck that will get you too far on the ladder.

How to play this deck

Patriot Surfer

An absolute Zoo Deck resolving around cards without abilities (which also counts for many cards locations drop and Rocks/Adamantium). Towards later you will buff them up through Patriot, Blue Marvel and Silver Surfer. A very modern version of a Zoo deck in the classical approach

Future Prediction:

Even Silver Surfer got nerfed, Patriot seem to catch that nerf pretty well and keeps this deck in the meta quite well.

new cards:

How to play this deckMore Silver Surfer Decks

Pool 2 MODOK

This deck is a Pool 2 deck using MODOK and you're trying to buff up Swarm and discard as much as possible. With Chavez and Strong Guy you still have options if that doesn't play along.

How to play this deck

Shanna Swarm

Shanna fitted into a swarm / zoo deck is a perfect fit and you will gain some reach with it.

Future Prediction:

Shanna is a little RNG but fun to play. You might see some spawned cards you don#t lik ebut most of the time you get some real value on the board that you can later buff up with your ongoing cards.

How to play this deckMore Zoo Decks

Spectrum Wong

basically all cards here have ongoing abilities you can boost with Spectrum on the last turn, but with Iron Man, Wong and Mystique, chances are very high that you can even double that to all like 8 power to each location and taking over.

Future Prediction:

less meta deck now, espcially with the control decks taking up more space in the meta but still a deck for early P3 players to start put and push to a decent rank.

How to play this deck

Stormy Shanna

Including Shanna in a control/Zoo deck is amazing as you can scale your positive power buffs of Zoo cards and you gain some extra reach through her ability.

Future Prediction:

Shanna can be a little RNG so if you look for a very consistent deck in Marvel Snap, plaiyng one that spawns random cards might not be for you. Overall still a solid deck and one that absolutely makes fun to play.

How to play this deck

Strong Guy JeBait

you have a ton of 1 Energy cards that give you great advantages (see below) and then use Kazar, Strong Guy and America Chavez to turn over in the last turns. This deck is very low rng as you will always play it empty.

Future Prediction:

Struggles late Pool 2 to early Pool 3 already with many strong counter cards, so clearly a beginner deck to play

How to play this deck

Pool 1 Ongoing

Use basic ongoing cards that have good abilities along with Spectrum to buff them up at the end

Meta Dependency:

A very good deck to play in Pool 1 and also beginning of Pool 2

How to play this deck
---
Conclusion
I hope you liked this overview of the best Ant-Man decks in Marvel Snap today and find them helpful to run one of them this season – I'm sure they will be one of the strongest and you can push your rank quite well with it. If you have questions or annotations to the decks, please don't hesitate to write a comment below and I'll be more than happy to reply.