Are you looking for a deck that you can play with Hobgoblin in it in Marvel Snap? Hobgoblin can open up some interesting possibilities so I feel you will like this guide here – please mind, this guide here is getting the good decks directly from my popular meta decks list and gets updated each time I update my meta decks (at last once or twice per week), so you will never find any outdated decks here that are not flagged as old and outdated.
Is Hobgoblin A Good Card in MARVEL SNAP?
Hobgoblin comes accross as this 5-cost card that appears to have 8 power but there's so much more ot it. You can get him down to prevent an opponent caring about a pretty empty location, you can use him to cloak up a enemy location and with the right synergy cards you can even stuff him into important trigger slots and stuff a location with him. He's pretty versatile and if you see the opportunity to play him with value you will gain value from him..
---
Hobgoblin in the current meta: Has a little the reputation of being a card for disruption decks but you can actullay use him in quite a variety of decks as he is pretty independant from synergies and can counter quite a number of opponent decks and win conditions..
---
Good Synergies with Hobgoblin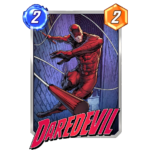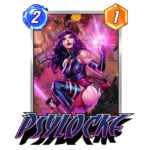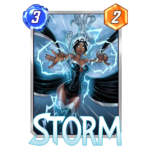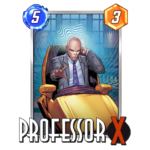 ---
The Best Hobgoblin Decks
The decks here are ranked by how well the decks perform in the current meta. As I said earlier in this guide, the table will get updated every time I update the meta deck tier list here automatically!
DeathWave

A

DeathWave is incredibly powerful as you enable your win conditions from both side. Destroy cards and gain synergy there will make your Wave cheaper as well as every unspent energy reduced She-Hulk's cost. With Wave you can then reduce their cost to 4 energy plus their reduction, so sometimes you can drop both of them for something like 2-3 energy n total to overtake locations on the last turn easily.

Future Prediction:

DeathWave seems to fall behind more and more this season for the fact that the strong archetype of decks simply seem to regulate syergies well or simply overcome DeathWave with pure power if you don't draw into your lines well. Still, a solid deck to play if you're experienced, just make sure to bale to escape the ThanosLockjaw and strong Shuri setups.

How to play this deckMore Destroy Decks

P2 Destroy

This is a progressive evolution of the Pool 1 Destruct deck (see below) using some cool new cards that you can unlock in Pool 2. The general destruct cards stay the same, but you can play Killmonger to gain benefits but also counter other decks (like Zoo decks or other destruct decks). With Shang.Chi you can disarm locations easily that use high-power cards or power up early and Hobgoblin can ruin a location for your opponent out of nowhere effectively.

Future Prediction:

Not outstanding but performing alright given the fact that you use very early cards only in this deck.

How to play this deck

She-Hulk Combo

A great combo deck that uses the synergy between She-Hulk, Sunspot and The Infinaut along fitting cards for a great deck that appears weak up until the big power drops on the last turn.

Future Prediction:

Solid performance and similar as it was last seasnon, She-Hulk is just a good card for combo so I think it's save to predict her to stick around in the meta for quite some time.

How to play this deck

Nimrod Destroy

Revolve around using your negative Goblin cards to clogg up one location of your opponent to play Galactus in on Turn 6. Then play Nimrod in another location, ideally scaling him up through Shuri and use Wolverine as well on the right location or the lcoation left of Galactus to make sure he will jump into it.

Meta Dependency:

Can be quite predictable with the Goblins, Wolverine, Nimrod down, but with ARnim Zola, you still have a backdoor to play on Turn 6 if Galactus doesn't seem to do the trick.

How to play this deck
---
Conclusion
I hope you liked this overview of the best Hobgoblin decks in Marvel Snap today and find them helpful to run one of them this season – I'm sure they will be one of the strongest and you can push your rank quite well with it. If you have questions or annotations to the decks, please don't hesitate to write a comment below and I'll be more than happy to reply.