Are you looking for a deck that you can play with Storm in it in Marvel Snap? Storm can open up some interesting possibilities so I feel you will like this guide here – please mind, this guide here is getting the good decks directly from my popular meta decks list and gets updated each time I update my meta decks (at last once or twice per week), so you will never find any outdated decks here that are not flagged as old and outdated.
Is Storm A Good Card in MARVEL SNAP?
With Storm you can shut down a location so no more cards can get played there after the one last turn, so you will have it quite easy to find the win condition on one location with her..
---
Storm in the current meta: quite well as control decks are doing strong and you can combine her with plenty of classic cards to keep the lead in one location with her..
---
Good Synergies with Storm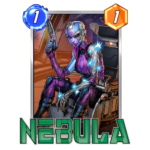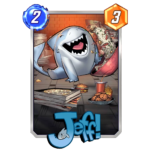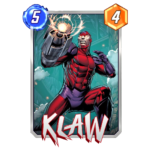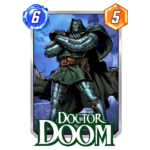 ---
The Best Storm Decks
The decks here are ranked by how well the decks perform in the current meta. As I said earlier in this guide, the table will get updated every time I update the meta deck tier list here automatically!
High Evolutionary Lockdown

A+

Unlocking the abilities of the cards without abilities that will reduce your costs and lower your opponent's power along control-heavy cards will give your opponent a really rought time dealing with you

Future Prediction:

First week of High Evolutionary but already quite a strike and a deck that talks top-of-the-meta language. We'll see where it will go but with High Evolutionary as one of the big-bad-cards that will stay Series 5 forever,I believe we have a new player in the ring

How to play this deck

Seracle Surfer

A

With loads of 3-cost cards you will flood the deck and either disrupt the enemy synergies with cards like Iceman, Scorpion, Cosmo, Killmonger or Polaris or build some yourself with Bishop, Brood, Mister Fantastic. You want to get as many 3-cost cards on the board as possible and then play Silver Surfer at the end to give each one of them +3 power. Playing Sera on Turn 5 will let you play 3 cards on your last turn so you can easily add 9-12 power to each location and turn over the game.

Future Prediction:

Not much changed for this deck recently and it goes a little up and down in the meta tier list of decks but no sigificant changes. Probably the deck that has been in the meta tier list the longest consequatively and still performs stabel and successful

How to play this deck

Discard Dracula

B+

Discard like crazy is the mantra of this deck in hope to grow as many 0-cost Swarm copies as possible, grow up Morbius and increase Apocalpye's power at the end for a big push through Dracula.

Future Prediction:

Bouncing up and down in the meta tier list for quite a while and as Dracula is the star here and can't be countered, this deck relies heavily how other decks do and as recently so many new cards build strong decks, Dracula is not the top of the meta anymore and this means this deck is also ranked lower now in my tier list

How to play this deckMore Discard Decks

Basic Control

The classical control deck, using cards to interrupt and limit the way your opponent can play his synergies turn by turn with cards that lock down locations, limit the cards your opponent plays or manipulate the energy costs or power of them

Future Prediction:

Still annoying to deal with and less about a certain deck type. If you're good at playing a control deck, this deck can still get you very far but compared to other decks above harder to play and doesn't work every single time.

How to play this deckMore Control Decks

Cerebro 2

As you can see all your cards have 2 power and the reason is that you will play Cerebro to give them all +2 power which is a lot at the end of the game. With Mystique you can even double that and Storm will make it eaier for you to find your win condition. A classical Zoo deck that is quite versatile to play without many lines to draw into.

Future Prediction:

Cerebro is back with some adjustments and viable to play if you're a fan. There's better decks around but this deck can still work well for you if you know when to snap and when to retreat.

How to play this deckMore Ongoing Decks

DoomWave Nebula

This deck combines a lot of cheaper cards with great value and then builds a bridge through Wave to play high-costs cards that are really effective. There's no specific synergies here you're after, you basically play the cards you have and try to make the most out of it, which works quite well as you don#t have to rely on specific lines to draw into.

Future Prediction:

DoomWave with Nebula is taking over a lot recently and makes it on par with the other top decks in the Marvel Snap meta right now. I feel it's not THAT strong as the decks above, but overall a very reliable and good deck to play.

How to play this deck

Nebula Control

A control-archetype deck build around Nebula, other GUardians of the Galaxy and new cards that can hold up and deal with other meta decks pretty good.Shut down lanes while playing cards that scale well and generate more power is the game-plan here while trying to prevent your opponent to get his comos or synergies done.

Future Prediction:

Not a deck to dominate, but one to shut the other decks down and take a victory when they don't draw into their lines

How to play this deck

Thanos Control

With several synergies combining the recently new cards with Thanos makes a pretty Control-focused deck that can limit your opponent's deck potential

Future Prediction:

Thanos is on the decline so this deck is (in the great matter of meta) not a deck that will dominate and rather one for players that enjoy control decks along Thanos.

How to play this deck

Guardians of the Galaxy

Use Nebula to force your opponent to play at the location and use the Guardian of the Galaxy cards that gain extra power when your opponent plays a card to scale up a location for an easy win condition.

Future Prediction:

new deck for the Guardians' Greatest Hits Season

How to play this deck

Nebula Lane Clog

Clog up enemy locations to find your win condition while pressure them to play where you want them to play

Future Prediction:

new deck for the Guardians' Greatest Hits Season

How to play this deck

Surfer Move

A great deck that evolved a few weeks ago and is still working wonderful, tailoring a move deck with many 3-cost cards that you can buff up with Silver Surfer instead of playing the Heimdall finish - that will confuse your opponents a lot, I can tell you that.

Future Prediction:

This deck has been rising recently and brings move back in the trend, kind-of- So, if you're into move deck you should give it a shot as it performs quite stable.

How to play this deckMore Move Decks

Reach N Reveal

This is a new an exciting deck with many win conditions, great meta countering and loads of options to play and it dominates very well recently. You have Sunspot and Storm to lock down one location while being able to get more power into it later and then strong end-game moves to win a second location.

Future Prediction:

It's a very basic deck and most played by newer players that don't have the advanced cards. Works fine but not top-of-meta deck in Marvel Snap

How to play this deck

Stormy Shanna

Including Shanna in a control/Zoo deck is amazing as you can scale your positive power buffs of Zoo cards and you gain some extra reach through her ability.

Future Prediction:

Shanna can be a little RNG so if you look for a very consistent deck in Marvel Snap, plaiyng one that spawns random cards might not be for you. Overall still a solid deck and one that absolutely makes fun to play.

How to play this deck

Wide Wong Black Panther

Early in a match you will try to lock down locations you have cards in that you can buff up with on reveal effects. The good part here is that you have White Tiger, Arnim Zola and Doctor Doom to reach into those locations easily later. Getting Wong down means basically you can double any card played after and they are strong and multiply and snowball heavily. If you don't pull Wong into your hand you're still able to use Black Panther, White Tiger, Arnim Zola or Doctor Doom and with Odin you still can double their on reveal by triggering it once more and having decent power as well.

Future Prediction:

I will remain this deck here as it doesn't seem it got affected by the recent balancing changes much

How to play this deckMore Black Panther Decks

Quake Control

Quite an off-meta deck that uses locations hifting to steal cubes when opponents snap. Snapping back and gain big but retreat if things are not going your way.

Future Prediction:

People have reached Infinity with this deck without being in the meta, simply as shifting locations is something players aren#t that aware of but it's not meta-depending.

How to play this deck

Valkyrie Control

Play all the Infinity Stones, ideally for free through Quinjet or Beast and scale them up through Ka-Zar and Blue Marvel. The beauty here is that you can use Professor X to lock down one location you have the lead in and Valkyrie to scale down high-power cards your opponent has

Future Prediction:

With many cards that ramp up a lot of power, this deck comes into meta more and more ans you interrupt combos and scale down the high-power cards accross the boards quite well.

How to play this deck
---
Conclusion
I hope you liked this overview of the best Storm decks in Marvel Snap today and find them helpful to run one of them this season – I'm sure they will be one of the strongest and you can push your rank quite well with it. If you have questions or annotations to the decks, please don't hesitate to write a comment below and I'll be more than happy to reply.