Are you looking for a deck that you can play with Destroyer in it in Marvel Snap? Destroyer can open up some interesting possibilities so I feel you will like this guide here – please mind, this guide here is getting the good decks directly from my popular meta decks list and gets updated each time I update my meta decks (at last once or twice per week), so you will never find any outdated decks here that are not flagged as old and outdated.
Is Destroyer A Good Card in MARVEL SNAP?
As a 6-cost card, you'll always play Destroyer at the very end of the match and with all the power he has, you need to prepare your side of the board as Destroyer will destroyer everything on your side, so either block his ability or prevent cards from being destroyed before you play him. Also cards that pull him in the middle of the match can wreck your game pretty quickly..
---
Destroyer in the current meta: I feel Destroyer is a little out of meta in terms of not very popular. There are some decks out there that use him and you can push fairly far in ranks with him, but he is neither dominating nor performing badly right now..
---
Good Synergies with Destroyer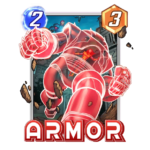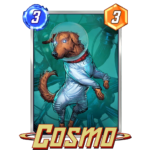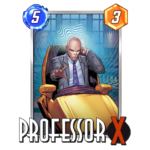 ---
The Best Destroyer Decks
The decks here are ranked by how well the decks perform in the current meta. As I said earlier in this guide, the table will get updated every time I update the meta deck tier list here automatically!
Galactus Destroyer

B

Use destory cards to build power and also the negative power cards against your opponent to see how the board develops and with Shuri you can then decide if you want to either play negative on your opponents side and finish with Nimrod and Destroyer or double up Galactus on a weak location.

Future Prediction:

Galactus with Destroyer and tons of lines to play seems to make a slow comeback into the meta and is the only Galactus deck taht is really viable in the meta right now.

How to play this deck

Attuma Destroyer

Control-heavy with a good amount of win conditions, this deck let you build solid power and controlyour opponent's possibilities.

Future Prediction:

A quite fresh deck that makes some appearences right now

How to play this deck

Zerocula

This deck has two sides that you normally don't see together, the Zoo aspect with many cards that get buffed up but also the high-power push cards towards the end, giving your opponent a hard time to deal with in Marvel Snap. With Zero you can also play your Red Skull without buffing up your enemy or your Infinaut despite played a card on Turn 5. Dracula can become a little bit of a gamble but if you see you have your high-power cards in your hand at Turn 4 it's worth gicing it a shot.

Future Prediction:

We haven't heard much of this deck recently but it seems that Dracula along other cards gained some momentum after the recent balance changes.

How to play this deckMore Ongoing Decks

Shuri Nimrod Ramp

This Shuri deck version incorporates Nimrod to scale up as well and givey ou more flexible lines to play towards the end.

Future Prediction:

Shuri is pretty strong and with Nimrod you gain a ton of flexibility here. Not on top of the meta but if you like Shuri and want to play Nimrod you can make this deck work.

How to play this deck

2-Lane Destroyer

A different Pool 3 version of a very good destruct deck is this one here, using Destroyer as the final card. This deck is really interesting as you also use cards to block destroy effects like Armor or Cosmo to make that strong final-turn move. What I like about this deck specifically is that it's not that obvious early on that you're playing a destroy deck so your opponent will get a weaker read on your next moves. In my opinion also a really strong deck that's absolutely worth giving a shot.

Future Prediction:

Has been getting better, espcially as you see Armor and Cosmo being played by other players, too and this will rather help you than disrupt you

How to play this deck

Negasonic Galactus

Use the calssic Galactus lines along Negasonic Teenage Warhead to defend your lead in the location you played Glactus in

Meta Dependency:

Like any Galactus deck this depends a lot how well Galactus performs and how much you enjoy playing Galactus

How to play this deck
---
Conclusion
I hope you liked this overview of the best Destroyer decks in Marvel Snap today and find them helpful to run one of them this season – I'm sure they will be one of the strongest and you can push your rank quite well with it. If you have questions or annotations to the decks, please don't hesitate to write a comment below and I'll be more than happy to reply.