Are you looking for a deck that you can play with Colossus in it in Marvel Snap? Colossus can open up some interesting possibilities so I feel you will like this guide here – please mind, this guide here is getting the good decks directly from my popular meta decks list and gets updated each time I update my meta decks (at last once or twice per week), so you will never find any outdated decks here that are not flagged as old and outdated.
Is Colossus A Good Card in MARVEL SNAP?
Colossus is immune against any disruption effecty your enemy or a location can use on him. He can't get his power reduced (great for locations that do that), he can't be moved or destroyed so he can be used in a variety of ways.
---
Colossus in the current meta: Not depending on any archetype, he can be used in a variety of decks but also when any hot location is disruptive. You just see him around quite frequently.
---
Good Synergies with Colossus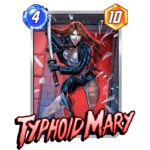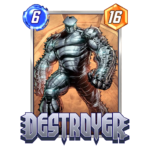 ---
The Best Colossus Decks
The decks here are ranked by how well the decks perform in the current meta. As I said earlier in this guide, the table will get updated every time I update the meta deck tier list here automatically!
Budget Ongoing

Play as many cards as you can early and then buff them up with the higher-cost cards to gain more power, espcially with Onslaught who doubles that buff you can get a nice result at the end of Turn 6

Future Prediction:

This deck can make a solid appearance. It lacks some high power to compete with the high-ranked decks in Marvel Snap above, but still solid

How to play this deckMore Ongoing Decks

Basic Destroy

This is a version that's quite early available with Carnage and Deathlok as your destruct cards and several cheap cost cards to feed to. With Wolverine, Squirrel Girl and Nightcrawler you also have cards to play into locations that get locked and Enchantress is a great meta counter card. Your win condition with Iron Man and Hulk at the end is phenomenal!

Future Prediction:

Fun to play but with very basic cards and not the best synergies you will not get too far in ranks

How to play this deck

Pool 1 Ongoing

Use basic ongoing cards that have good abilities along with Spectrum to buff them up at the end

Meta Dependency:

A very good deck to play in Pool 1 and also beginning of Pool 2

How to play this deck
---
Conclusion
I hope you liked this overview of the best Colossus decks in Marvel Snap today and find them helpful to run one of them this season – I'm sure they will be one of the strongest and you can push your rank quite well with it. If you have questions or annotations to the decks, please don't hesitate to write a comment below and I'll be more than happy to reply.