Are you looking for a deck that you can play with Yondu in it in Marvel Snap? Yondu can open up some interesting possibilities so I feel you will like this guide here – please mind, this guide here is getting the good decks directly from my popular meta decks list and gets updated each time I update my meta decks (at last once or twice per week), so you will never find any outdated decks here that are not flagged as old and outdated.
Is Yondu A Good Card in MARVEL SNAP?
Yondu is a solid card to start with (or play in between) as you sometimes can get lucky and snipe a vital card for your opponent but even if not, you normally gain a lot of information about the deck you're up against. And with the recent changes in America Chavez mechanics that she will not be on top of the deck anymore, you will not consistently destroy her if your opponent runs her..
---
Yondu in the current meta: A great 1-cost card that you can even make some synergies with and for that reason one you will see being played frequently..
---
Good Synergies with Yondu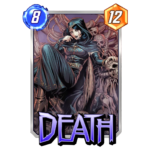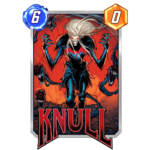 ---
The Best Yondu Decks
The decks here are ranked by how well the decks perform in the current meta. As I said earlier in this guide, the table will get updated every time I update the meta deck tier list here automatically!
Galactus Death

A

This deck is really frustrating to deal with for your opponent as you will try to use your Elektro or Wave to draw into your Galactur before Turn 5 and then ruin basically the whole locations except one that will show down on the last turn. Nothing your opponent built up until that will count and you can catch him pretty off guard with it. If you play Doctor Octopus before Galactus and basically empty your opponents hand or Leech to block all enemy cards' abilities. Very strong and easy to play.

Future Prediction:

Still a viable deck to run and the only Galactus deck that makes sense running in the higher ranks, espcially now that Death being a little cheaper you can get more alternative lanes.

How to play this deckMore Destroy Decks

Deathpool Venom Destroy

B+

Using many destroy synergies, this deck can devlop a lot of power and also handle quite some controlling locations and cards your opponent might throw your way. Overall also a ton of fun to play when you scale up your cards well.

Future Prediction:

This deck made a comeback after not have been relevant for such a long time - fans of the classic destroy archetype did well with it. Hard to tell if that is just because of how High Evolutionary shook up things along the OTA balance patch on Black Bolt and Stature or this is back for good - but it works again which makes me personally really happy

How to play this deck

DeathWave

DeathWave is incredibly powerful as you enable your win conditions from both side. Destroy cards and gain synergy there will make your Wave cheaper as well as every unspent energy reduced She-Hulk's cost. With Wave you can then reduce their cost to 4 energy plus their reduction, so sometimes you can drop both of them for something like 2-3 energy n total to overtake locations on the last turn easily.

Future Prediction:

DeathWave seems to be more in business since Wave has become a way stronger card in the meta recently and with all the versatile options you have here now. Probably the most accessible deck high in the meta right now.

How to play this deckMore Destroy Decks

Negative Galactus

Through Mister Negative you can cheaply unlock the strong combo lines in this deck, but be prepared to retreat if lines don't fall into your favor. Can work great but also fail miserably making it a exciting, effective but also rng deck.

Future Prediction:

We'll see how reliable this deck sustains with the way Galactus is predictable but right now you can win well if you see your retreat/snap spots well.

How to play this deck

Iron Galactus

Using Howard to get more insights on what Iron Lad will be doing and how your potential Galactus play will turn out, this Galactus deck gains more stability in draw lines

Future Prediction:

As all Galactus decks it requires you to snap and retreat at the right time to make overall cube gains.

How to play this deck

Basic Disrupt

She-Hulk Baero

A great destruct deck where you can gain value directly of your cheap cards (Hood, Bucky Barnes) or feed them cheap into Carnage while reducing the cost of your Death card. With Wave on Turn 5 you can even get Death to 0-cost on Turn 6. The good thing here is, even without drawing into that line, you have Leader to copy your opponent, Aero to move his final push away or She-Hulk to find your win condition.

Future Prediction:

I ranked it down a little as many control cards are out there to make it hard for destroy decks to be really popular right now.

How to play this deckMore Destroy Decks

Negasonic Galactus

Use the calssic Galactus lines along Negasonic Teenage Warhead to defend your lead in the location you played Glactus in

Meta Dependency:

Like any Galactus deck this depends a lot how well Galactus performs and how much you enjoy playing Galactus

How to play this deck
---
Conclusion
I hope you liked this overview of the best Yondu decks in Marvel Snap today and find them helpful to run one of them this season – I'm sure they will be one of the strongest and you can push your rank quite well with it. If you have questions or annotations to the decks, please don't hesitate to write a comment below and I'll be more than happy to reply.