Every player in Rise of Kingdoms should have a farm account. That's the truth. So, many players think they don't need it or don't want to spend the extra time building a mini account to farm but the cold hard truth is – you'll appreciate it so much in the future that you simply shouldn't wait one more minute to build it.
In this guide I want to show you how to build your farm account in Rise of Kingdoms, how far you should take it (depends on your goals) and how to operate your mini account in the best way and transfer the resources to your main account.
Sounds good? Great. Let's go 🙂
Create Your Farm Account
Here are some important things to mind when setting up your farm account in Rise of Kingdoms
New Gamecenter or Google Play Account
Go to settings and then GameCenter in your iOS device or Google Play in your Android and log out of GameCenter/Google Play and then create a new GameCenter/Google Play account with a new email address.
Now you can simply start Rise of Kingdoms with the new GameCenter/Google Play logged in and you're good to go.
Pro Advice! It sometimes sucks to jump between the accounts just to send out some armies gathering or transferring resources so if you have an old phone or tablet or Bluestacks on your Mac/PC is a little more comfortable doing that than switching accounts on your single device. It's not a must but makes things easier.
What Nation For Farm Account?
Right after the start you now need to select a nation for your farm account and there are some nations that work best here:
France – for me the best choice if you plan on building one farm account. Faster wood gathering is really good and faster hospital healing as well but the real reason is that you will get Joan of Arc as starting commander and this will save you a lot of time and effort. Best for most people in my opinion.
Rome – extra troop march speed and extra food gathering speed make them a great option. If you build several farm accounts and this is one for gathering food, Rome is the best choice.
Japan – you get 5% gathering speed buff for all resources but I only recommend this if you build yourself a gold gathering account as this is the only gold gathering buff any nation gives.
Byzantium – as for Rome and Japan, the benefits here are gathering stones.
Spain – offer a bonus on resource production and is only useful if you will use the gathering account as a very idle account and you need to max out the buildings first to really get a benefit from it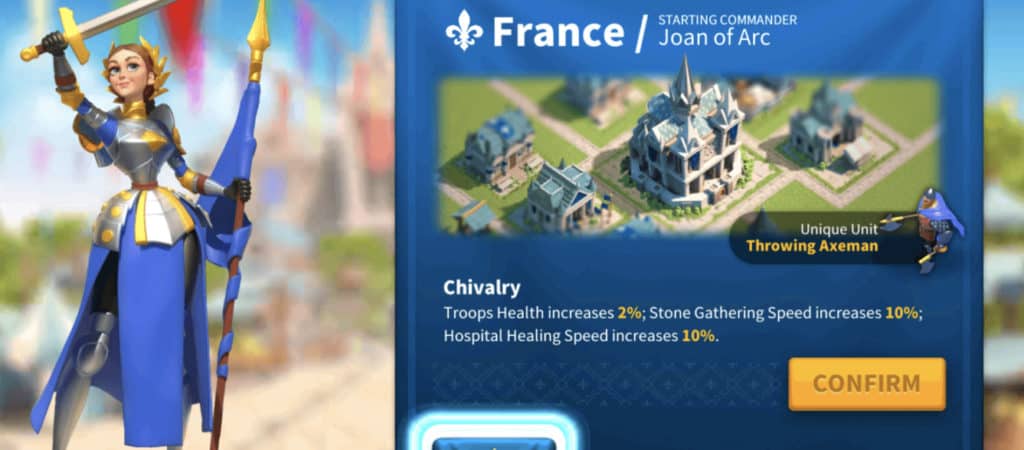 In short – take France if you are about to build yourself one active farm account in Rise of Kingdoms, add Rome, Japan and Byzantium if you want one farm account for each resource (that's only for players that spend a lot of time) or take Spain if you want an idle account that you don't use a lot to send out armies to gather.
So much about selecting your nation.
How Far To Level Your Farm Account?
The answer to this question is underlying your goal of that farm account – or otherwise, how much time do you want/can you spend to operate your farm account.
For me, there are only some stages relevant:
Troop Dispatch Queue
This determines how many armies you can send out to gather and this is tied to the City Hall Level:
< Level 11 – 2 Armies
Level 11 – 3 Armies
Level 17 – 4 Armies
So, for a mini account you don't want to spend any more time than you have to, right? Still, trying to get your City Hall to Level 11 makes the most sense because the 3 armies will gather a lot more effective than just sending out 2.
City Hall Level 22 offers you the option not only to have 5 armies gathering, it also gives you the option to get Tier 4 troops that will also boost your gathering results.
Still, getting an account to City Hall Level 22 takes a lot of time so rather think about it in the process and try to get to City Hall Level 11 first 🙂
What To Upgrade & Focus On
Upgrading your City Hall is one of the main objectives but there are also some other buildings and upgrades that are important:
Production Buildings – well, obviously, you also want to level up your production buildings to max out the potential of your farm account. Although production is by far not the most effective way when comparing it with gathering resources on the map, you still get some passive resource income with it that makes it worth the time and resource investment in the long run.
Trading Post – When you send resources from your farm account to your main account, there's a tax you need to pay. The higher your Trading Post is leveled up the lower this tax will become so keeping that up with your City Hall Level is another really important thing.
Hospital – this is also important because the higher your hospital capacity the fewer of your troops are going to die.
Storehouse – you don't want that people can take many resources from your mini account when rallying it so upgrading your Storehouse is also a good idea as it will decrease the amount of resources an attacker can possibly take away from you.
Technology – you also should invest in any gathering or production upgrades and if you plan to go to City Hall 22 you also want to research on Tier 4 Troops as well.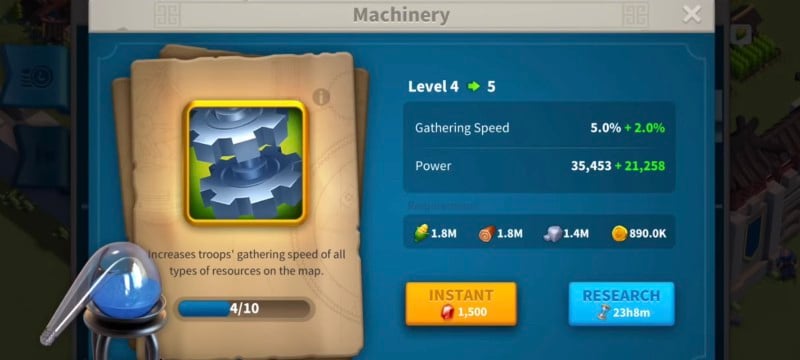 Operate Your Mini Account – Resource Transfer & General Tips
There are actually two things – away from doing the upgrades mentioned above – that you will need to do in order to successfully operate your farm account. And that's transferring your resources to your main account and trying to prevent getting attacked on your farm account on one side while keeping your gathering active on the other side.
Transfer Resources & Prevent Getting Attacked Much
Actually that goes hand in hand as stockpiling millions of resources in a City Hall 11 village just screams out to get raided, especially during kill events. Transferring your resources to your main account is one of the best things you can do. Yes, you pay the tax for that but you need to pay it anyway when transferring the resources and they are better protected in your main account than your mini account.
Of couse, your farm account needs to be either in your main account's alliance or your main account needs to leave your main alliance to join the farm alliance where your farm account is in. I prefer having both in the main alliance.
Defending Commander – you normally get swarmed, especially during kill events so having a defensive commander like Sun Tzu or Kusunoki will help to scare some attackers off that smell a juicy target with T1 troops.
Again, make sure that you don't have much resources in your village to keep the loss at a minimum.
Gathering
Still, don't try to protect your farm account at any cost – it will get smashed here and there and there's nothing you can do about it.
Remember, your goal with that account was to get additional resources for your main account, right? 🙂
Don't upgrade walls to the max level or try to work on defensive commanders – rather use that effort to put all you got into your gathering commanders skill tree to get the most out of your gathering.
When talking about troops I'd recommend you to train the Tier 1 Siege units because they are faster and can carry a nice amount of resources and won't bother you that much if they get killed during any action.
Conclusion
So, that's it for now and I think this is all the important stuff you need to know when starting a farm account (or even more than one) – and you really should! The sooner you do that the earlier the investment cost pay off and you get a nice bonus on resources that you will appreciate later in the game ✌️