Winning matches always comes down to how many scores you can strike in FIFA Mobile and this is what this article is all about – I have here different examples of very common situations you will find yourself in and also give you the best plays you should use. This will raise the chance that you strike the goal and ultimately win the match in your favor.
This FIFA Mobile guide is divided into two sections – one is about handling situations on your way to the goal (includes losing the ball less, save yourself time and get your striker into a better position) and the other part is about actually striking the goal (how to shoot, penalties, corners and situations like that)
Get The Ball To The Goal More Often
Often enough you will find yourself in an attacking situation where your player(s) have several defenders in front of them. Here are the best ways to solve them in your favor.
I have here some really common situations and how you can solve them elegantly.
Spinning Around Defender
Spinning is a perfect move because it will prevent that the defender has direct access to the ball and can take it away from you – basically you always want to have your player in between the ball and the defender.
A really common situation is when your player want to go in direction of the goal to strike and a defender is running (or walking) directly at you and is right between your player and the goal.
Looks pretty much like this here:
With a spin move you will position yourself always right so the defender has to risk a foul or miss (depending on the stats of the players involved here).
Always remember, you don't want to spin it into the feet of your opponent, so don't use it too early! ????
You player will always set the ball a little off at the end to gather speed and when you start it too early, you will easily lose the ball.
You can also use the spin perfectly when you're coming on the outside and the way to the goal is blocked by a defender running next to you.
In this case, you can spin and point to the other direction immediately and the defender will run a few steps in the wrong direction, leaving you along long enough to make a nice attempt on the goal (and ideally strike it).
Rather Shoot Than Dribble
It's in 90% of all situations more clever than simply attempting a shot on the goal even if you're not straight in front of the goal and 20 yards away – the reason is plain simple, dribbling towards the goal costs time (precious time that you can use for an additional situation) and the risk that you might lose the ball to a defender. Long-shots are, FIFA style, extremely effective.
The Rainbow Move
You need a player with dribbling stats 90 or above in FIFA Mobile to do this move and it is extremely effective in a 1-on-1 situation against a single defender. Simply swipe up the "Spring & Skill" button and your player will lift the ball over the defender and you're in a perfect position to shoot at the goal.
You don't have such a high player yet? Well, you might try out my strategy to make coins on the player market that will provide you with enough coins to buy such a high player ????
[irp posts="46453″ name="Millions Of Coins in FIFA Mobile – Player Market Farming Guide"]
Strike Tips For More Goals In FIFA Mobile
Now let's talk about the situations where the goal is right in front of you and you want to have the highest possible chances to actually score this goal in FIFA Mobile.
Swipe (Except In One Case)
Swiping rather than using the shoot button should always be your choice when attempting to score a goal in FIFA Mobile (except one situation, I will cover that later) – swiping will give you WAY better options where the ball will hit and also which curve the ball will fly to it. Especially when the keeper is out of the goal you can swipe elegantly above him.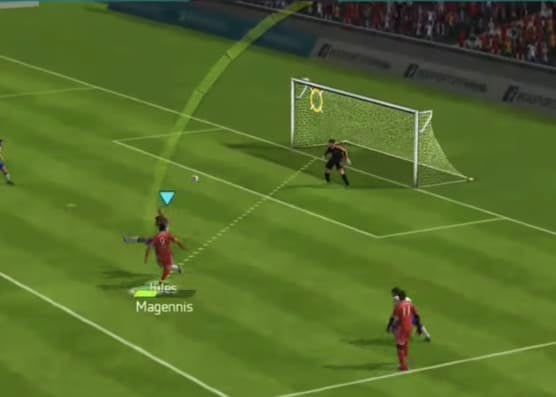 The only exception is the straight long-shot. This is a lot more precise (especially when you can't see the goal from your viewport) – this is also a viable option as in any other FIFA game you might know – scoring goals from a distance is a lot too easy and will probably always be.
How To Score Corner Goals
Scoring a corner is easier than you might think, you have exactly two options here – (1) is to select the player you want to play the pass to (s. image) or (2) play it in the open space in front of them.
This is not a gamble, so just take a look at your striker in the middle – if he is taller than the guy in front of him (as you can see in the image on the left side), you should select him and simply play the ball directly to him. If that's not the case, play the ball in the open space in front of the keeper and hole that your striker is faster than the others 🙂
Always Go For The Rebound
Never give up scoring that goal! Often enough a ball will rebound from the keeper, so try to head your striker to the place where it could rebound to (without knowing if it will actually rebound) – I think I have like 1-2 such situations in every game and those are great opportunities to strike that goal.
Conclusion
When you apply all of these tips you will strike a lot more goals in versus attacks because the AI is, frankly spoken, not that smart and will always fall for these moves. In the end it always comes down to scoring as many goals as possible to not leave your opponent in versus attacks a chance, he needs to make more goals than you and often times opponents simply think the better team will win and waste too much time making a perfect goal instead of trying to get as many attempts as possible 🙂