Every beginning of a new month will start a new seasonal challenge in Clash of Clans that gives away some nice magical items and extra resources for every player for challenges that are not really hard to complete. The real nice candy is, however, for those getting a Season Gold Pass.
The only downside? It's $4.99 in the shop…
In this guide I will show you a ways how you can get the Gold Pass even when you're not willing or able to pay the money in the shop (no credit card in your country or too young or [insert your reason here] …)
Gold Pass Rewards
First of all, why is this Gold Pass so desirable? Well, the Silver Pass (that any player has automatically) will give you some minor rewards and resources in your Piggy Bank (called season bank) at the end of the month.
The Gold Pass adds a lot of magical items worth in total about $250! (Credits Tobiline on Reddit for that calculation) plus a skin for one of your heroes that is unique and only achievable in that very season it was initially released. There's no way to get e.g. the Gladiator skin for the Barbarian King from the April 2019 season in any way later in the game..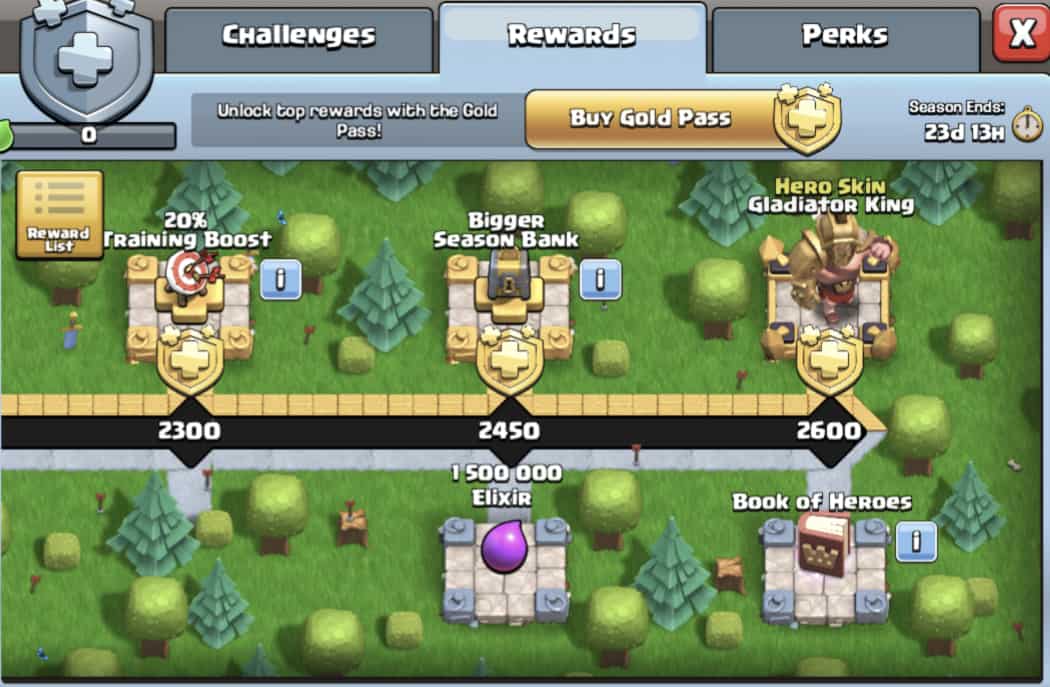 Looks all pretty nice, right? But what if you simply can't spend the $4.99 in the shop? Are there other ways?
Yes there's a detour to still get it and I would like to walk you step by step through it.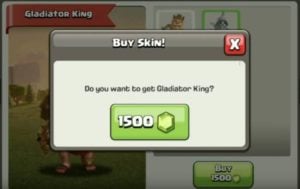 Update! By the way, with the Spring 2020 Update Supercell added the possibility to buy the hero skins for 1,500 Gems after the Month is over, so if you are only in for the hero skins you can also wait and get them for Gems (1,500 Gems takes around 6-8 weeks to farm without spending any money, see here)
Free Gold Pass? Yes, It's Possible…
First of all, this will take some time but you can do this once per month so it will be enough to get the Gold Pass in every season. If you're just a grasping person you might still consider spending the money directly because it's easier and well worth it (50 times what it costs).
This guide is only for those that simply can't spend the money and want the skins and extra rewards!
So what we need to do is add some funds to your account so you can buy the Gold Pass in the shop in Clash of Clans – that's the only possible way!
It's possible and there are two things you need to do:
Get a gift card for iTunes or Google Play (I'll show you how)
Change your account country so you can add it (I'll also show you that)
Get The Gift Card
To get a free gift card you need to do something, you need to try out free apps – yes, I'm afraid you can't just get it any other way!
Here's step by step what you have to do:
| | |
| --- | --- |
| | Get CashForApps |
| ↓ | First of all you need to get the CashForApps app (if you haven't already) and you're ready to start. If you use my referral link and the code allclash you will get 20 extra points after you tested the first free app – CLICK HERE |
| | Test Free Apps |
| ↓ | In your CashForApps app you will now find free apps that you can install and use for 60 seconds and you will get credits. You can uninstall those apps after you got the credits. Depending on your country you might need a little longer to get enough credits |
| | Get Your Giftcard |
| ↓ | As soon as you have enough credits you can turn them in for a $5 giftcard for either iTunes or Google Play. You can redeem your giftcard then directly to your Apple/Google account |
| | Use the credits for your Gold Pass 🙂 |
Unfortunately for those of you that play Clash of Clans on an Apple device you also need to use CashForApps as AppBounty shut down recently.
Still, CashForApps has also iTunes giftcards but in some countries they only have a $10 so it takes a little longer but you can use it for 2 months unlocking your Gold Pass 🙂
Now you will need to complete the offers you see there – they are always a little different depending on the country you're living in. All of the offers require you to get a free app, download it and use it for 30 seconds or 1 minute (read the description!!) and then you can remove it again.
You will need to do this as long as it takes to gather enough credits to get a gift card in their rewards tab.
Simply go in there every day and you should be able to get the card before the month is over – you can also get the rewards at the end of the season when you have enough points and buy the Gold Pass on the last day.
If you don't see a gift card for your country in there (countries other than Germany, Great Britain, Netherlands and some more), you will need to get a gift card in USD.
If you have a gift card for your country you can use it right away to get the Gold Pass from the shop, otherwise I will now show you how you can use the USD gift card.
Use A USD Gift Card In Any Country
If youäre located in India, Indonesia or any other country out there you will need to use a USD gift card and for that, you will need to change your account to US.
No worries, you will not use any progress or apps when doing this, you only will change the billing method.
Attention! Do set your new address in California, or there might apply some state taxes and your $5 gift card is not enough!
Android

Here's the official support page
Apple


Here's the official support page
You can also change it back after you have purchased the Gold Pass if you want to, but you don't need to because all apps and everything else in your device will stay the same.
Conclusion
As I said before, it's not my fault that Supercell decided to only give away the Gold Pass for real money and not Gems and I didn't do this guide here primarily to earn money (even though I get some bonus points myself when you use CashForApps through my invite link, but you also get some bonus points when using my link), I want to help those that simply can't add funds to their account because of the country they're living in or because they are too young to have a credit or debit card – I'd really appreciate if you mind this before pressing the downvote below or dropping a negative comment. Don't kill the messenger ✌️