Unlike other mobile games you can't purchase Coins directly in Mario Kart Boss, you can get access to a mini-game that will reward you with a lot of Coins. The mini-game is fairly easy but there are some other things that I want you to know about Coin Rush that are important.
How Can You Get A Free Coin Rush Run?
You can pay the Rubies to get access to Coin Rush, but there's also one way to get a free run of Coin Rush in Mario Kart Tour.
Every tour lasts for 2 weeks as you probably know and in the second week there's always the "Tour Challenges 2" unlocked with 9 quite easy challenges. If you do complete all of them, you will be rewarded with a Coin Rush Ticket that you can either use directly or save for later (see below why you should save those tickets!)
Is Coin Rush Worth The Rubies?
This is a very interesting question and looking at it there are two different points that you should keep in mind.
The only real use that Coins have in Mario Kart Tour is getting driver, karts, glider or tickets from the shop that refreshes every day – this is a great way to unlock new ones but also to skill up certain driver, karts or glider that you want to skill up.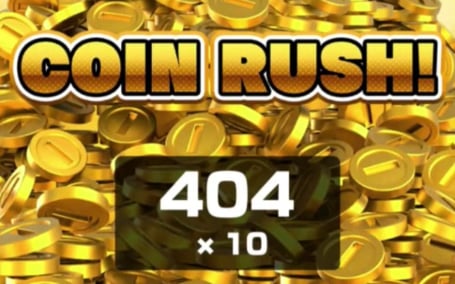 I'd like to throw in some numbers here…
If you do a pull in the Pipe you normally have:
5% chance to get a High-End Driver (with Spotlight)
2.5% chance for a High-End Kart
2.5% chance for a High-End Glider
6.5% chance for a Super Driver
5% chance for a Super Kart
2.5% chance for a Super Glider
*please mind those numbers vary with every tour a little bit!
If you buy them in the shop, they will cost you:
High-End Driver: 12,000 Coins
High-End Kart: 10,000 Coins
High-End Glider: 10,000 Coins
Super Driver: 3,000 Coins
Super Kart: 2,000 Coins
Super Glider: 2,000 Coins
To not over-complicate things here I would suggest that you should focus on coins in the beginning of the game until you don't see new driver, karts or glider appearing in the shop. This way you will consistently unlock as much as possible and get the biggest advantage for the cups as an unlocked driver that can get you into Frenzy Mode is way more powerful than skilling up another one to Skill Level 2.
When you don't see new items appearing in the store, you can stockpile your Rubies for the pipe.
How Many Coins Do You Get From Coin Rush?
The tracks you will get in Coin Rush are different in each tour but the rewards are always the same – it's 400-408 Coins and only the multiplier changes.
This means you will get about 800 Coins for 5 Rubies, 2,400 Coins for 15 Rubies and 4,000 Coins for 25 Rubies.
You see, from an economical perspective there's no need to wait until you can do the 25 Rubies Coin Rush (but there's a different reason so check out the next tip below!)
Save Coin Rush Tickets Or Not?
Theoretically, there's no reason why you should not do the Coin Rushes as often as possible if you want to, but there's something that I and also many others in the community have been noticing…
If you have more than 12,000 Coins available, you will see High-End driver, karts and glider are appearing a lot less frequently in the shop. There's no evidence that Nintendo waits to present you those in the shop more when you "can't" afford them but many people have the feeling that this is how it works (including myself, I was sitting on 20,000+ Coins for 3 weeks until I saw a High-End driver in the shop and when I spend them I saw multiple High-End items in the shop in the coming days).
I started to save the Coin Rush Tickets and also the Rubies to make the Coin Rush runs when I need them but this is – like I said – only individual strategy and not proven to work better 🙂
How To Get All Coins In Coin Rush
It's not that difficult to get all Coins in Coin Rush in Mario Kart Tour. The best strategy here is to drive slow, don't drift much and ALWAYS drive in the middle of the Coins so you can collect all of them.
You normally shouldn't mess up and getting all Coins is quite easy so focus, don't do it while you're distracted and take your time and you can get all of them 🙂