Are you looking for a deck that you can play with Hawkeye in it in Marvel Snap? Hawkeye can open up some interesting possibilities so I feel you will like this guide here – please mind, this guide here is getting the good decks directly from my popular meta decks list and gets updated each time I update my meta decks (at last once or twice per week), so you will never find any outdated decks here that are not flagged as old and outdated.
Is Hawkeye A Good Card in MARVEL SNAP?
A common 1-cost card that gains +2 power when you play another card in the same location on the next turn. Nothing game-changing but can be incorporated quite easily in several deck archetypes..
---
Hawkeye in the current meta: A card you can fit in without any specific dependency on meta..
---
Good Synergies with Hawkeye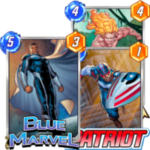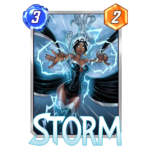 ---
The Best Hawkeye Decks
The decks here are ranked by how well the decks perform in the current meta. As I said earlier in this guide, the table will get updated every time I update the meta deck tier list here automatically!
Reach N Reveal

This is a new an exciting deck with many win conditions, great meta countering and loads of options to play and it dominates very well recently. You have Sunspot and Storm to lock down one location while being able to get more power into it later and then strong end-game moves to win a second location.

Future Prediction:

It's a very basic deck and most played by newer players that don't have the advanced cards. Works fine but not top-of-meta deck in Marvel Snap

How to play this deck
---
Conclusion
I hope you liked this overview of the best Hawkeye decks in Marvel Snap today and find them helpful to run one of them this season – I'm sure they will be one of the strongest and you can push your rank quite well with it. If you have questions or annotations to the decks, please don't hesitate to write a comment below and I'll be more than happy to reply.