Are you looking for a deck that you can play with White Queen in it in Marvel Snap? White Queen can open up some interesting possibilities so I feel you will like this guide here – please mind, this guide here is getting the good decks directly from my popular meta decks list and gets updated each time I update my meta decks (at last once or twice per week), so you will never find any outdated decks here that are not flagged as old and outdated.
Is White Queen A Good Card in MARVEL SNAP?
White Queen has decent power herself and with the additional card she helps handsize archetype decks – but you can also gain a useful card to play or at least tome valuable information what deck your opponent plays with her.
---
White Queen in the current meta: Most of the time in either Good Card or Handsize archetype decks so relies on how well those deck perform in the meta.
---
Good Synergies with White Queen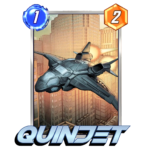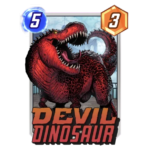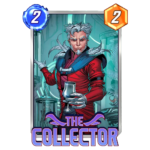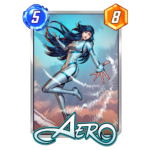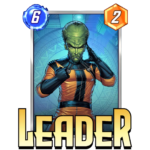 ---
The Best White Queen Decks
The decks here are ranked by how well the decks perform in the current meta. As I said earlier in this guide, the table will get updated every time I update the meta deck tier list here automatically!
Handsize Destroy

This is bascially a deck that won't play much on synergy but more on using cards that have great value on their own. Great for beginner players that haven't have many cards unlocked and still working well to compete with other decks and reach a solid rank.

Future Prediction:

Depends a little on the cards performance but I update with every season/balancing change.

How to play this deckMore Destroy Decks

Basic Devil Dino

The basic Devil Dino deck with many cards that will grow your hand so your Devil Dino at the end will get as powerful as possible. With Moon Girl even clone to drop a Devil Dinosaur on Turn 5 and Turn 6.

Future Prediction:

Used to be incredibly popular in November 2022 but has been losing popularity since then as there are so many cards that will counter and disrupt Devil Dino these days.

How to play this deck

Budget Good Cards (S8)

Similar to the higher ranked meta cards deck, this is a lower pool version that more players have access to, including Devil Dino tat so many players love playing.

How to play this deck

Dino Control

This early Pool 3 control deck with Devil Dino is insane and uses Daredevil to foresee your opponents' semi-last move so you can very reliably find your win condition and push really far, up to infinity without much problems.

Future Prediction:

A solid deck and a good start into Pool 3, although Devil Dino is more and more on the decline this deck will not be as meta-defining as it used to be end of 2022. Still, if you lack some of the cards above give it a shot, it performs well as all control decks do these days and with Leader in the meta anyway

How to play this deck

Double Devil Dino

Double Devil Dino is a Pool 3 version of the Devil Dino deck that is extremely effective as you will clone your Devil Dino power towards the end either with Taskmaster or Arnim Zola to new locations - so the hard counter of Enchantress or Shang Chi is way less effective and the raw power this decks plays can wipe over opponents easily.

Future Prediction:

Just falling out of the meta for the reasons that control cards plus Shang-Chi are all over the place and can disarm this deck well. A good deck for early Pool 3 if you got Arnim Zola but none to push very far.

How to play this deck

Leech Leader

This deck follows less of a synergy in total but it uses cards that are significantly stronger than normal and providing great value on their own. This means they either disrupt enemy synergies well early (Scorpion, Armor, Cosmo) or have great return value for the energy spend (Sunspot, Lizard, Maximus). With White Queen you can draw your opponents win condition Shang Chi destroys any high-power cards, Leech disrupts their last turn, Aero and Magneto move cards around to keep your tiles clean and Leader basically copy your opponents move if you have the lead in 2 locations by the beginning of Turn 6.

Future Prediction:

Yes, Leader got changed but is still a viable card and you have the other strong cards to find your win condition with this deck.

How to play this deck

Zabu Handsize

With Zabu as the great enabler and so many 4-cost cards that suddenly make sense to play along Devil Dinosaur, you have a deck here that is working extremely well with high power for Devil Dino on Turn 5 and then you can even buff him up and bring more power on the board

Future Prediction:

As long as Zabu won't get nerfed, this deck will stay on top of the meta with all those 4-cost cards available that make it so strong.

How to play this deckMore Zabu Decks

Zabu Dinosaur

Combining good cards that work really well on their own in a handsize deck with Devil Dinosaur works surprisingly well and is a viable and affordable deck right now

Future Prediction:

We always have a deck of 'good cards' each season that make a great deck, this is this season's one.

How to play this deck
---
Conclusion
I hope you liked this overview of the best White Queen decks in Marvel Snap today and find them helpful to run one of them this season – I'm sure they will be one of the strongest and you can push your rank quite well with it. If you have questions or annotations to the decks, please don't hesitate to write a comment below and I'll be more than happy to reply.