Runes are relatively fresh in Archero and are random enhancements for your character that will boost individual stats and give you better chances to get certain skills. The system has some pitfalls and you can easily waste a lot of potential (and time/coins) here so I wanted to make this guide to give you the best strategy to forging runes in Archero, including a full list of all perks that I sorted by their strength so you can see the best combination you should go for.
Unlock Rune Forging
This is the hardest part. You need to unlock the Rune Talent and need to have luck on your side, especially when you already unlocked talents for 100 times or more, this can cost a lot of coins. There's no way to get access to runes unless you unlock the Rune Talent.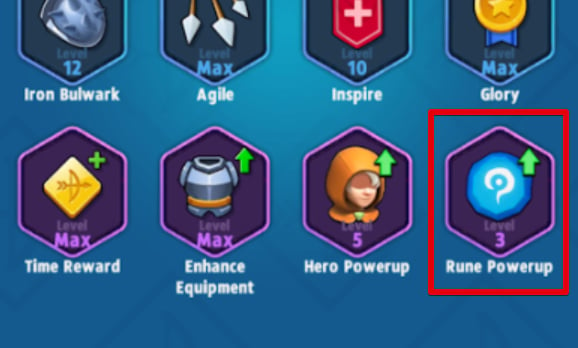 Once unlocked, you will see the 5 different runes (Power, Saviour, Recovery, Courage and Luck) and each one of them has different slots:
A fixed slot where only the stats change
2x Normal Perks (Unlock at Level 40)
2x Rare Perks (Unlock at Level 60)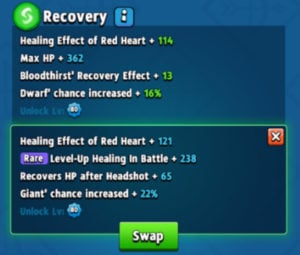 When you now forge a rune, the fixed slot stat will randomly get assigned a value and you will get random normal perks and rare perks. Each time you forge, you can either swap in the new rune or keep the old one.
For that reason I have a list below that will show you the strongest perks, those should be the ones you go after.
Important Forge Tips!
There are two important things you need to keep in mind when forging:
The fix slot value doesn't matter that much. It really don't matter if you get 10 attack more or less here, the perks are the powerful ones and the ones you should go for when forging. Never forge just to get a little higher number when you go strong perks in a rune
Don't forge runes before you get Level 40. Period. You will get assigned perks randomly later and just waste rune stones and coins. The best strategy would be to wait with forging runes until you hit Level 60 so if you're close to that wait before forging!
This is the best strategy to save you coins. Imagine you're level 45 and start investing in forging to see a good normal perk pairing and when hitting Level 60 you see that the random rare perks are rubbish and you need to start all over again!
All Rune Perks & Tier List
Below I have listed you all the possible perks for a rune as well as an order how strong they are. Before you think about swapping in a new rune take this list and see how strong the perks actually are.
Power Rune List
Fixed Slot: Attack + X
Normal Perks
Rare Perks
Strongest
Attack Speed +%
All Damage Increased
Attack +%
Crit Chance +%
Crit Damage +%
Level Up Attack In Battle*
Damage to Mobs +X
Attack Speed Boost Chance Increased
Attack Boost Chance Increased
Crit Master Chance Increased
All Circle Skills & Crit**
Damage to Boss/Airborne/

Ranged/Melee/Ground

Units +X/%

All Circle Skills

Damage/Spinning Speed

All Circle Skills Damage***
Chilling Blast Range +%
Holy Touch Damage +X/%
Holy Touch & Bouncy Wall****
Death Bomb Range +%
Weakest
Death Bomb +X/%
* each time you level up in a run you will gain this amount of extra attack. It ends when the run is over and starts again. So if that value is +15, you will get +150 Attack if you get to Battle Level 10
** All Circle Skills can now deal crit damage
*** All Circle Skills get this amount of additional damage
**** If you have Holy Touch, it will not just go straight out, it will also bounce off the wall once
Saviour Rune List
Fixed Slot: Max HP + X
Normal Perks
Rare Perks
Strongest
Wingman Chance Increased
Damage Resistance +%
Damage Resistance When Static +X/%
Dodge +%
Dodge Master Chance Increased
Slow Projectile Chance Increased
Projectile/Front/When Static

Damage Resistance +X/%

Invincibility Chance Increased
Collision Damage Resistance +X/%
Agility Chance Increased
Rear Damage Resistance +X/%
Grace Chance Increased
Fury (Pet) Chance Increased
Giant Knockback/Movement
Dwarf Dodge/Movement
Weakest
Trap Resistance
In general a tough spot here. Increasing the chances for some skills is good because these skills will make you significantly stronger but add more RNG to your runs. Flaat benefits are also good but give you not that much benefits than getting the better skills like Wingman, Dodge Master or Slow Projectile.
Recovery Rune List
Fixed Slot: Healing Effect of Red Heart + X
Normal Perks
Rare Perks
Strongest
Ricochet Chance Increased
Spellbook Mana Speed +%
Rage Chance Increased
Healing Effect of Red Heart +X/%
Max HP +X/%

Chance to recover 1.5x HP +%

Spellbook Initial Power +%

HP Drops X/%

Front Arrow +1 Chance Increased
Diagonal Arrows Chance Increased
Multishot Chance Increased
Piercing Shot Chance Increased
Strong Heart Chance Increased
Bloodthirst Recovery Effect +X
Headshot Chance Increased
Side Arrows +1 Chance Increased
Level-Up Healing in Battle +X*
Recovers HP After Headshot +X
Dwarf/Giant Chance Increased
Death Nove Chance Increased
Weakest
Holy Touch Chance Increased
Attack Increased for 3 seconds after Headshot
*  This is the amount of healing that you get when you level up. Not that great because you will level up a lot at the beginning when you normally don't need it and later you need several rooms for one level up in battle.
Recovery Rune List
Fixed Slot: Attack + X
Normal Perks
Rare Perks
Strongest
{YOUR HERO} Base Attack +X/%
Shadow Clone Chance Extra +1
Attack +%
Summon One-Eyed Bat Chance Extra +1
{YOUR HERO} Base HP +X
Shadow Clone Chance Increased
Summon Bat/Clone

Damage/Crit/Speed + X/%

Shade/Sylvan/Onir Base Attack +%*
Shadow Clone Chance Increased
Spirit Front Arrow +1 Chance Increased
Spirit Multishot/Front Arrow

/Blaze/Freeze extra

Rolla Base HP +%*
Ice/Flame/Lightning/Poison/Dark

Damage +X/%

Sword Skills Chance Increased
Element Circle Chance Increased
Weakest
*if you use one of the paid heroes (Shade, Sylvan, Onir or Rolla), their base Attack +% is the best option for you
Lucky Rune List
Fixed Slot: Max HP + X
| | Normal Perks | Rare Perks |
| --- | --- | --- |
| Strongest | Max HP +% | Spellbook drop chance rate +% |
| | Smart Chance increased | All rare drop probability +% |
| | Battle XP gain #% | Weapon/Locket/Bracelet drop chance +% |
| | | |
| | | Ring drop chance +% |
| | Star Skills damage/speed | |
| | | |
| | Meteor damage/chance | |
| | | |
| | Strike damage/speed | Get all Strike Skills, get Piercing effect |
| | | Get all Meteor Skills, damage +% |
| | | Get all Star Skills, damage +% |
| | | Get all Strike Skills, damage +% |
| Weakest | Swords damage/speed | All Sword Skills and Crit Combo |