Are you looking for a deck that you can play with Elektra in it in Marvel Snap? Elektra can open up some interesting possibilities so I feel you will like this guide here – please mind, this guide here is getting the good decks directly from my popular meta decks list and gets updated each time I update my meta decks (at last once or twice per week), so you will never find any outdated decks here that are not flagged as old and outdated.
Is Elektra A Good Card in MARVEL SNAP?
You can use Elektra to snipe out an opposing enemy 1-cost card that your opponent really needs so you can effectively turn that 1 energy she costs into amazong value when up against cards like Sunspot, Ebony Maw, Quinjet, Ant-Man etc. – but also taking out a regular 2-power card makes her effectively a good one.
---
Elektra in the current meta: Not too common as there are more powerful 1-cost cards and many players safeguard their Sunspots quite well so she is a little off-meta – but you still see her being played here and there.
---
Good Synergies with Elektra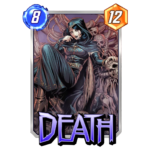 ---
The Best Elektra Decks
The decks here are ranked by how well the decks perform in the current meta. As I said earlier in this guide, the table will get updated every time I update the meta deck tier list here automatically!
DoomWave Nebula

A+

This deck combines a lot of cheaper cards with great value and then builds a bridge through Wave to play high-costs cards that are really effective. There's no specific synergies here you're after, you basically play the cards you have and try to make the most out of it, which works quite well as you don#t have to rely on specific lines to draw into.

Future Prediction:

DoomWave with Nebula is taking over a lot recently and makes it on par with the other top decks in the Marvel Snap meta right now. I feel it's not THAT strong as the decks above, but overall a very reliable and good deck to play.

How to play this deck

Thanos Control

With several synergies combining the recently new cards with Thanos makes a pretty Control-focused deck that can limit your opponent's deck potential

Future Prediction:

Thanos is on the decline so this deck is (in the great matter of meta) not a deck that will dominate and rather one for players that enjoy control decks along Thanos.

How to play this deck

Basic Discard

this deck here resolve around the cards that gain power when getting discarded, like Apocalypse that will gain extra power so you can get a big comeback at the end. You have several cards in your deck that have nice cost/power ratio with the ability to discard a card in your deck. Can be a little rng as you want this effect to take place on your Apocalypse so sometimes it just doesn't run well - but if it does, you can throw in a 20-power card at the end and take over a tile effortlessly or even snowball through the full board.

Future Prediction:

As a very basic Discard Deck this will do fine and you have easy access to the cards. Still, there are some very powerful advanced discard cards like Hell Cow or Hela missing so you can get far but not to the very top with this deck

How to play this deck

Basic Disrupt

Basic Move

KaZoo

you have a ton of 1 Energy cards that give you great advantages (see below) and then use Kazar and Blue Marvel to increase their power towards the end. Alternatively, you can run the line of Strong Guy at the end if you see that you can empty your hand to make a big push on one location at the last turn.

Future Prediction:

Still a solid starting deck and working but people learned well to deal with it and espcially with Killmonger and other control cards being very common you'll struggle with this deck starting Pool 3 (latest).

How to play this deck

Strong Guy JeBait

you have a ton of 1 Energy cards that give you great advantages (see below) and then use Kazar, Strong Guy and America Chavez to turn over in the last turns. This deck is very low rng as you will always play it empty.

Future Prediction:

Struggles late Pool 2 to early Pool 3 already with many strong counter cards, so clearly a beginner deck to play

How to play this deck
---
Conclusion
I hope you liked this overview of the best Elektra decks in Marvel Snap today and find them helpful to run one of them this season – I'm sure they will be one of the strongest and you can push your rank quite well with it. If you have questions or annotations to the decks, please don't hesitate to write a comment below and I'll be more than happy to reply.