Are you having a hard time picking a class in Tales Noir? Well, you should – i don't mean to be negative here, but picking the right class is pretty crucial and each class performs differently in the game modes and also in the style you're playing Tales Noir. Picking the 'wrong' class might give you a lot less joy and re-rolling is not that great.
For that reason, I have written you this guide here that will give you not just an overview about the different classes there are in Tales Noir, also some info about how the classes perform in each mode as well as what classes are easier to play in the beginning.
Also, make sure to check out my list of active gift codes for Tales Noir here; there has been a ton of new codes posted recently that will give you some nice rewards!
Best Class in Tales Noir (PvE & PvP)
Alright, let's jump right into the different classes in Tales Noir.
1. Knights (Tank – Defense)
When it comes to the solo PvE gameplay, the Knight is ranked number 2. If you consider the early gameplay performance, it should be ranked 4/5 because, in the early gameplay, it is best suited for completing missions, so solo PvE could be a tough job in early gameplay.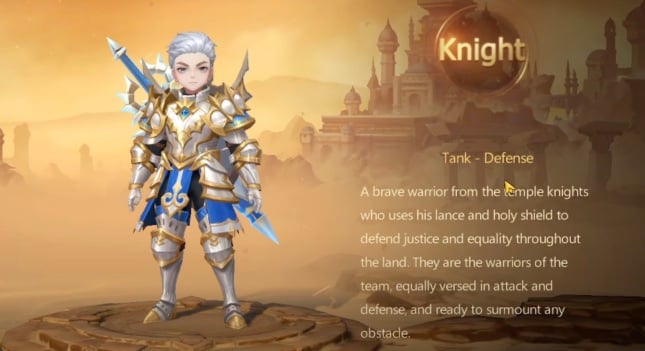 The scenario changes when you reach level 40. After level 40, you have to option to either go for a complete tank build, or you can choose to be a melee style damage dealer. The Knights don't do as well as the others in terms of damage, but they're not bad either. Besides being very beginner-friendly, knights are a great starting class for players to learn about Event and Dungeon mechanics. The Knight is strong and can take a lot of damage, so they can avoid all types of attacks and learn how to dodge confidently to clear all types of content efficiently.
PVP: 4/5 PVE: 2/5
2. Hunter (Ranged – Damage)
Hunter is a pretty solid option in the solo PVE. You can easily rank it as the third best out of five for the PVE. When you switch to PVP gameplay, the hunter does great damage. The downside of PVP is that high-damage players like Assassins can easily take it down.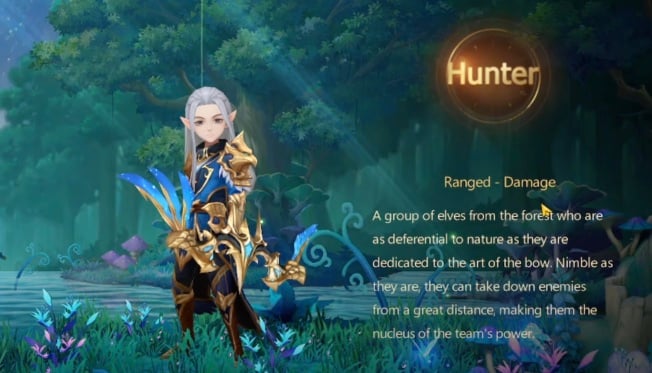 PvP in Arenas isn't Hunter's strongest suit, but they are exceptional in coordinated battleground PvP. Left unchecked, they pose one of the greatest threats to a team because they can launch attacks at long ranges to deliver consistent DPS. Hunters have unmatched single target damage and are a valuable addition to any dungeon party. In any party, regardless of what content is being challenged, having a DPS such as a Hunter is recommended since bosses have Berserk meters and shield buster mechanics.
PVP: 2/5 PVE: 3/5
3. Sorcerer (AoE – Control)
A sorcerer has long-range, great damage, and crowd control (CC) effects, making them great at PvP. The downside is that they are very vulnerable, so if you are not prepared for an incoming attack, you can quickly take them out. A sorcerer is also capable of playing PvE content, especially Defend the Princess.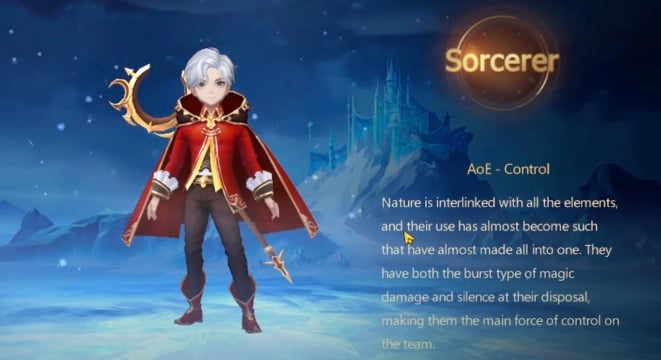 Multiple AoE (Area of Effect) and CC abilities make clearing trash mobs a breeze and can even help during boss battles. Especially against Bosses with fast-charging special attacks, Sorcerers can quickly evade harm using the teleport skill. It is true that the Sorcerer is unmatched in AoE damage in Tales Noir, but the game's most important PvP content revolves around taking down a single enemy, making their amazing AoE abilities less relevant than classes with Single Target specializations. They could be weak against assassins and knights as both have great one-on-one damage capabilities.
PVE: 1/5 PVP: 3/5
4. Assassins (Burst – Control)
Many people think that assassins are bad at PVE content, but they are not that bad. It is true that assassins don't have any advantage in the PVE like some other classes. For example, the Sorcerer has good AOE damage, and hunters are good at single target damage. It can be quite hard to survive a tough encounter if your defenses are low while you have to fight mobs and bosses close up. So, for this reason, the assassins are ranked last when it comes to the group PVE content. But for solo PVE content, the assassins are slightly better than the knight and the musician. So, for Solo PVE, you can rank it third.
When it comes to PVP, Assassins are ranked at the top. They are just unbeatable with a tremendous amount of burst damage and control effects. Their ability to cloak themselves to become invisible and then burst the enemies is the strongest among all.
PVP: 1/5 PVE: 5/5
5. Musicians (Magic – Healing)
The musician class is commonly referred to as a healer or support class. They are a staple of any team for all content since they can heal and buff themselves and their allies. You can rank them at the top when it comes to the group PVE content. Musicians must be on your team for party play like dungeons due to their outmatched healing powers. A Musician at a party will make a difference in PvE content. There is a lot of difficult content in the game that cannot be finished without a healer, so they are essential to the success of any group. Solo PVE, however, isn't as effective since you are alone.
But, when it comes to PVP content in Tales Noir, musicians are the worst choice. It is because you can't deal damage. Although you can heal yourself, you can't survive against high-damage heroes like assassins. It is because you can only heal yourself to a certain limit, and the damage of assassins can easily outmatch your healing abilities. But in group fights, they are a godsend. You cannot look down upon them in any case.
PVP: 5/5 PVE: 1/5
Conclusion
I hope this overview with some insights help you pick the best class for you in Tales Noir depending what you're aiming for and where you want to take the game (what modes you want to rock in the future). If you have further questions, please don't hesitate asking in the comments.
Similar class guides for other games: