Elemental Chests – Ice Chest, Holy Chest, Fire Chest, Nature Chest or Dark Chest – are here and there appearing and give the best rewards if you clear them.
They are also referred to as Rare Wanted Missions in several sources, so if you hear about that this means the elemental chests.
In this guide I want to show you when they will appear, what rewards they offer and how you can open them as fast as possible 🙂
Let's go.
Elemental Chest Spawn Rate (Rare Wanted Missions)
From time to time you will see an elemental chest appear on the left side of your screen along with the other chests. While other chests require you to kill any kind of enemy monsters or titans, the elemental chests require to take down a certain kind of monster of the element the chest is.
So, if yu have a holy chest you will need to kill holy (yellow) enemies to unlock it.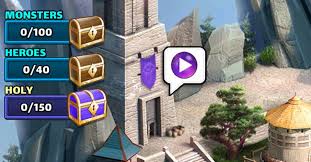 The rewards are normally really good so you don't want to miss that out!
How Often Do Elemental Chests Spawn?
There's no fixed amount of days set or any other way how you can plan or influence when the next elemental chest will spawn. It also doesn't depend on how many chests you unlock, it's just random and it can be between 2-16 days for the next one to spawn.
So make sure to check back and see if you have an elemental chest active right now as they also will disappear after a short period of time again.
Best Levels To Farm For Elemental Chests
Clearing those rare wanted missions require monsters of a certain color and 150 of them is a lot and not that fast to do.
I want to help you and have here the best levels to play in order to get as many guarantueed monsters of a certain color as possible for the energy you pay playing the level.
Fire Chest
I like to re-run either Province 4 Stage 1. Province 11 Stage 6 or Province 2 Stage 2 – depends what else I can use there that drops. Still, these three stages (or levels) are providing a ton of fire monsters and often enough there will also spawn additional ones.
Also great for lower players to farm the fire chest.
Ice Chest
You're getting the ice chest unlocked fastest when you play the levels in Province 8 – there are a lot of ice element monsters here and it shoule be super easy because it's a low province.
Especially Stage 7, 5, 3 and 1 have a high amount of ice monsters and can also spawn some additional ones if you're lucky and you can get your ice chest unlocked within a few runs.
Holy Chest
In Province 10 Stage 6 but also Province 9 Stage 4 and 7 are plenty of holy monsters to get smashed so you don't need many re-runs to get your holy chest unlocked. I normally let it run on auto fight because my team can easily crush these levels.
Dark Chest
Province 7 Stage 2 and Stage 4 are my favorite ones because there are some waves that have 4-5 dark monsters that often get down in one hit along with dark bosses as well – normally you should get 10-15 out of one single run and that will open your dark chest in no time 🙂
Nature Chest
Last but not least the nature chest… Province 6 Stage 3 and Stage 6 are great and you will find a lot of nature monsters there that will unlock your chest pretty fast.
Conclusion
Completing those Rare Wanted Missions is actually not hard and easy if you use the right levels and the loot is really good, especially if you need rare ascension material so be happy about every single one that you get 🙂