Are you looking for a secret code in Castle Clash or maybe you heard a lot about it and don't know what it exactly is? I have here everything you will need to know plus how you can get the latest Castle Clash Secret Codes all the time.
How To Enter Secret Code in Castle Clash
There used to be a way inside the game to enter the code but the developer changed that so you need to request a secret code via their website by entering your platform, language and in-game id on their website (you can find it here)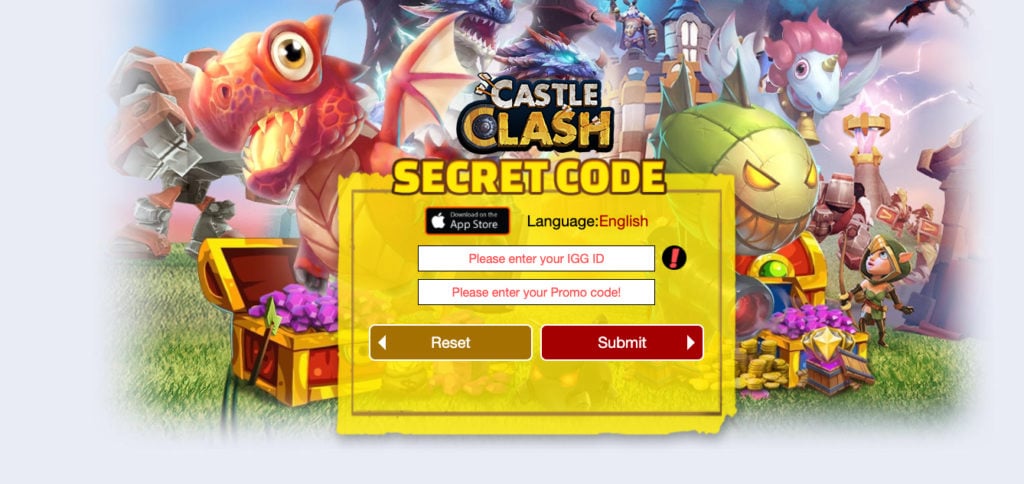 When you enter a valid secret code for Castle Clash, you will see a notification that tells you that you will see your reward very soon in your mailbox:

Now make sure to read the next section where I who you how can always get all up to date secret codes for Castle Clash!
All Castle Clash Secret Codes
I will list here all ongoing secret codes that get released frequently, so myke sure to bookmark this page and check here frequently.
New Gift Code (June 21st, 2021)
A new code just got released and it works on Android and iOS and will reward you with a 50x of Hero Skin Scrap Boxes I-V each.
You need to use the code B9295RGJ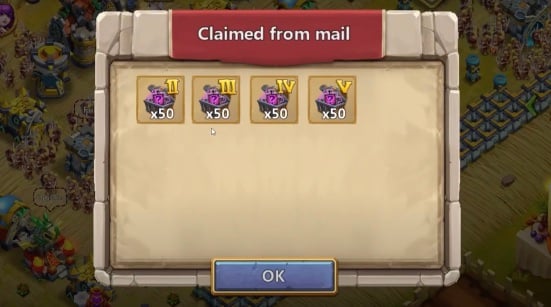 Fresh Gift Code (June 5th, 2021)
A new code just got released and it works on bit, Android and iOS, and will reward you with some nice rewards so don't miss it.
You need to use the code 7WMFASAP
New Code (December 10th, 2020)
A new code has been released so claim it as long as it works.
You need to use the code B7ZXXPA2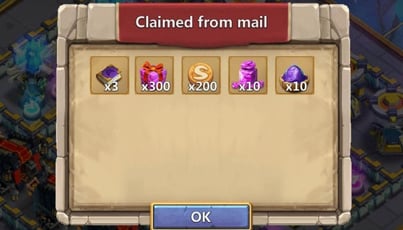 New Code (November 19th, 2020)
A new code has been released and it gives some nice rewards.
The code is 692CQKAA
7th Anniversary Code (July 8th, 2020)
To celebrate the 7th anniversary of Castle Clash, the developers have released a new code on the official Facebook Page of Castle Clash.
The code is 8R9CPT4C and is valid until August 31st, so don't miss using it.
New Year Code!!! (January 1st, 2020)
That's the perfect start into a new year, right? We've got a new code SU7XG69C and the rewards are not too shabby 😉
100 Books Code (November, 23rd 2019)
There's a new code available CBU5Y7F9 and it will give you 100 Blessed Tomes.
New Player Promo Code (October, 1st 2019)
To promote getting more players there are two new codes and you can use one of them:
Code 1 (Old Players): 2PCTFMBK
Code 2 (New Players): BP6F9RH7
Each one will reward Hero Essence, Tomes and much more and you can also get it without inviting a single new player to Castle Clash ????
Daily Login Code Hunt (January, 25th 2019)
You might have noticed that you got a part of a secret code when logging into Castle Clash today – unfortunately, it's only the first letter of the code…
The full secret code is EPNB5TDP and it will reward you Cannon Tower Skin Scraps 🙂
2 New Codes (July, 27th, 2017)
There are two new codes available for a short time:
NE5V86CM will reward you 40 EXP Packs,10 Gold Packs, 10 Mana Packs and 10 Red Crystals Bags
A78QJMC6 will give you 400 Shards and 40k Honor Badges
Amazong Codes (October, 25th 2016)
We have just gotten several new codes!
M9X3MGHU will give 300 Merits
XJT49Z9X will give 3000 Honor Badges
QDGR59PK will give 300 Gems
9PSNHA8Z will give 300 Shards
Enjoy 🙂